November 17, 2023
Seven Angels Cellars, a family-owned boutique winery, is named after their blended family of 7 children. One can only imagine the many holiday traditions a large and close family like this holds near and dear to their hearts. Here, Pamela shares some of the fam's favorite Thanksgiving meal choices.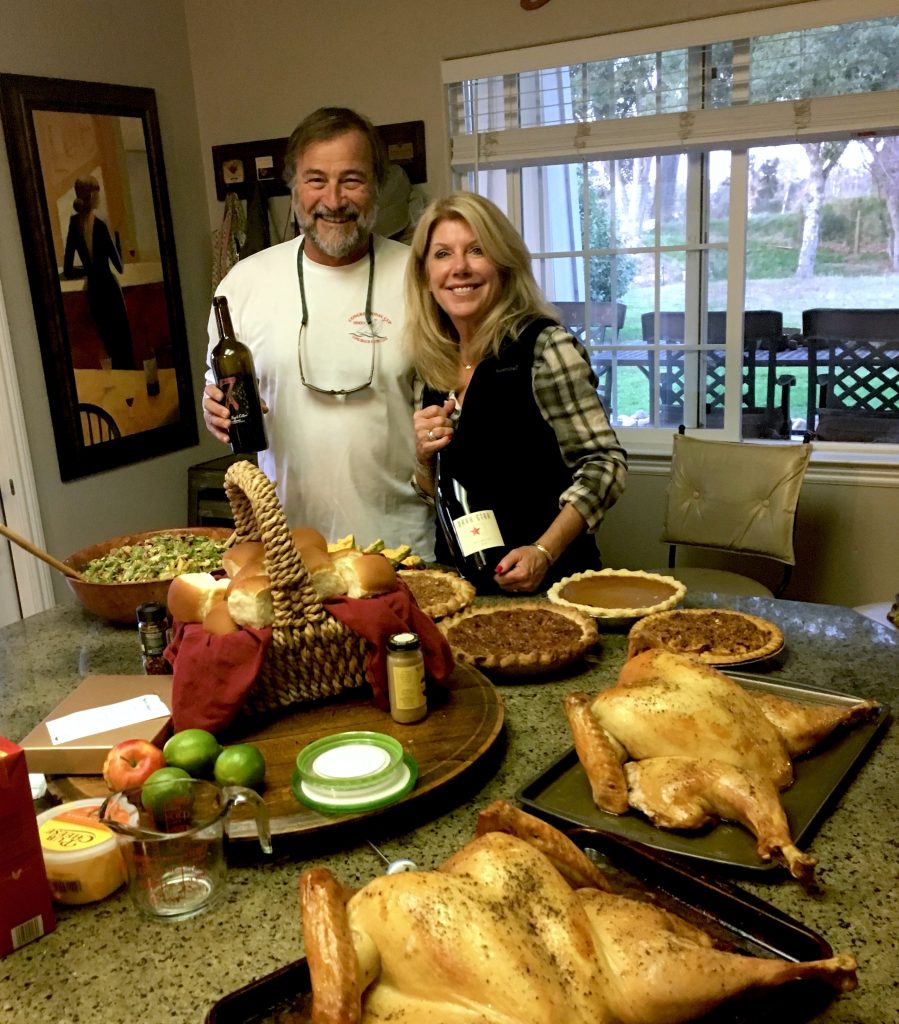 Thanksgiving is all about tradition. Every family has their favorite recipes and returns time and time again to them, bringing back pleasant memories of people gathering in the kitchen, sharing laughs, occasional jibes, and reliving memories.
As people arrive and come into the house, there are exclamations of, "Oh, it smells like Thanksgiving!" Nobody wants it to smell any different. There is comfort in tradition.
Each year as we discuss where the holiday dinner will take place, and who will be able to attend, there is always the question, what should we serve? Who are we kidding? We already know.
Our family has honed it down to a few favorites that absolutely need to be on the Thanksgiving table, or someone will be disappointed that their favorite isn't there. (I found this out last year when I suggested we not serve our Orange Praline Yams and my grandson said that was his favorite.)
Here are some of our have-to-be-on-the-table dishes.
Roasted Turkey
We get our turkey fresh from a local farmer. She delivers it to our home and it's still warm, having just been harvested that morning.
Chop fresh herbs, sage, rosemary, thyme, oregano, and tarragon, and mix with a generous amount of salt and pepper. Lift the skin of the turkey and stuff the herb mixture under as evenly as possible. It will taste good, no matter how evenly it's spread because as the turkey cooks, the space between the skin and meat will steam the herbs and infuse the flavors into the bird.
I prefer to stuff my bird with the dressing (recipe follows), but baking it in a casserole dish is always fine. I roast the stuffed turkey at 325 degrees for 20 minutes per pound, breast down until the last hour. Tent the turkey with foil. When there is one hour left to cook, uncover, carefully turn the bird over, breast up, and finish cooking uncovered to brown the skin.
Wine Pairing
A fruity Viognier or a softly oaked, nutty Chardonnay. 7 Angels Cellars 21 Viognier or 7 Angels Cellars 20 Chardonnay – award-winning, and both are yummy with the turkey.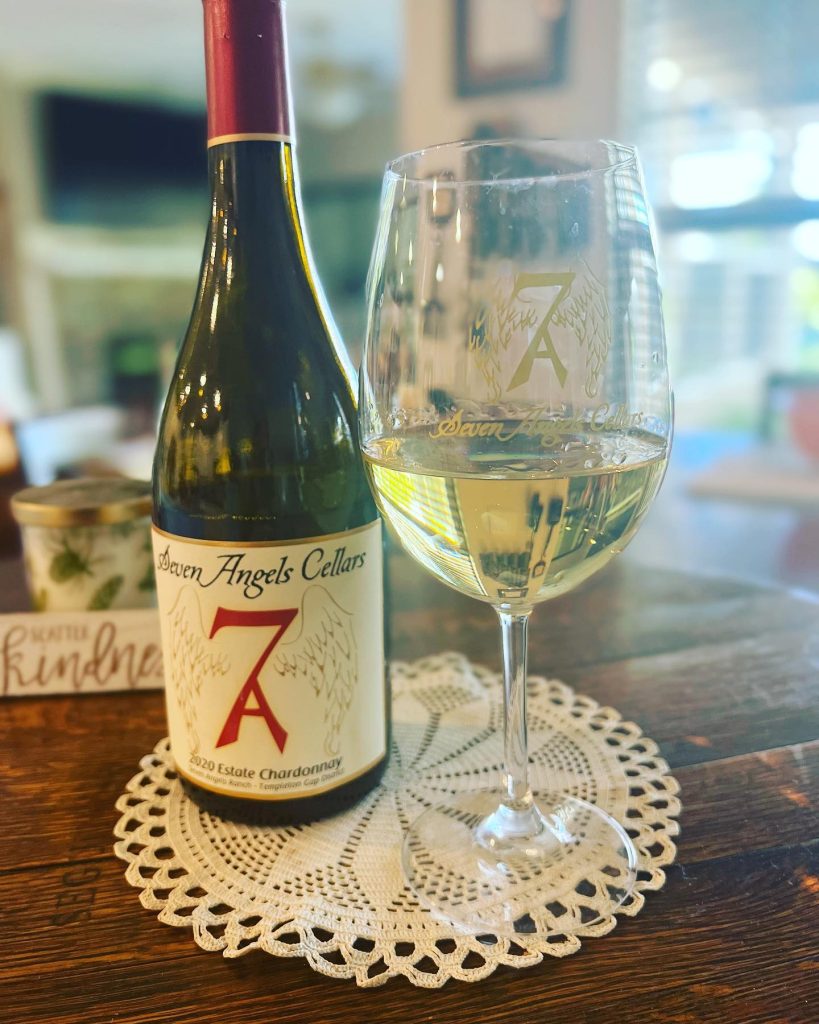 Oyster Stuffing
¼ c unsalted butter
1 onion, chopped
4 c. white bread, cubed
4 T. chopped fresh parsley
1 c. chopped celery
1 c. chopped mushrooms
¼ c. chopped fresh sage, or 1 T. dried sage
salt/pepper to taste
Milk, 2-3 eggs, or ½ c stock to moisten
I jar fresh oysters, cut into smaller pieces
1 cup nuts, like walnuts or pecans, chopped
Saute the onion in the butter. Add the oysters, celery, and mushrooms. Cook for about 5 minutes. Place the bread, sage, and parsley in a large bowl. Add cooked ingredients and stir. Add the milk/stock and 2-3 eggs to moisten. Add nuts, and salt and pepper.
Place stuffing loosely into the cavity of the turkey right before roasting and tie the legs together so stuffing stays inside. Any extra stuffing can be baked in the oven. Add more stock to prevent the baked stuffing from drying out.
Orange Praline Yams
Two 2-pound cans of yams or 4 pounds cooked, peeled and sliced fresh yams or sweet potatoes
⅔ c orange juice
1 T. grated orange rind
5 T. brandy
2 t. Salt and pepper to taste
1 t. Ground ginger or 1 T. fresh grated
½ stick unsalted butter, melted
⅓ c. brown sugar, packed
3 egg yolks
Praline Topping
⅔ c brown sugar, packed
1 stick unsalted butter, melted
1 c. chopped pecans
1 t. Cinnamon
In a mixing bowl, with electric mixer beat yams/sweet potatoes until smooth. Mix in remaining yam ingredients eating until mixture is light and fluffy. Butter a 12" quiche dish or 2 qt. Casserole. Pour in yam mixture. Make praline topping by mixing all ingredients together. Spread evenly over the yams. (May be refrigerated overnight.) Bake at 350 degrees 45-50 minutes until brown and bubbly. Serves 10-12.
We often make a side dish of roasted brussel sprouts, topped with crispy bacon, pomegranate seeds and walnuts. Of course the obligatory mashed potatoes and gravy, warm rolls, and crudites, stuffed celery, pickles and olives to round out the heavier dishes. Cranberry sauce, of course! Homemade or canned, it's a personal preference!
Dessert? Yes, please! Pumpkin pie, pecan pie, apple pie, any pie! Served with fresh whipped cream!
Recommended wines:
A crisp Viognier such as 7 Angels Cellars 2021 Viognier, a lightly oaked Chardonnay, like our 2020 Estate Chardonnay. A hearty Syrah compliments the meal, like our 7 Angels 2019 Syrah.
Whatever your traditions, we wish you a holiday surrounded by friends and family, and plenty of great food and wine. Cheers!