February 10, 2020
by Pamela Martin – Seven Angels Cellars
Beef Stroganoff is a timeless dish that makes the perfect romantic dinner.
The last place I want to be on Valentine's Day is in a restaurant.  I want to be in my own kitchen, barefoot, music playing in the background and a glass of wine poured.  This recipe for Beef Stroganoff is easy and comes together fairly quickly. I added some twists that can jazz it up or one can make it in its simplest form, and it's always enjoyed as comfort food.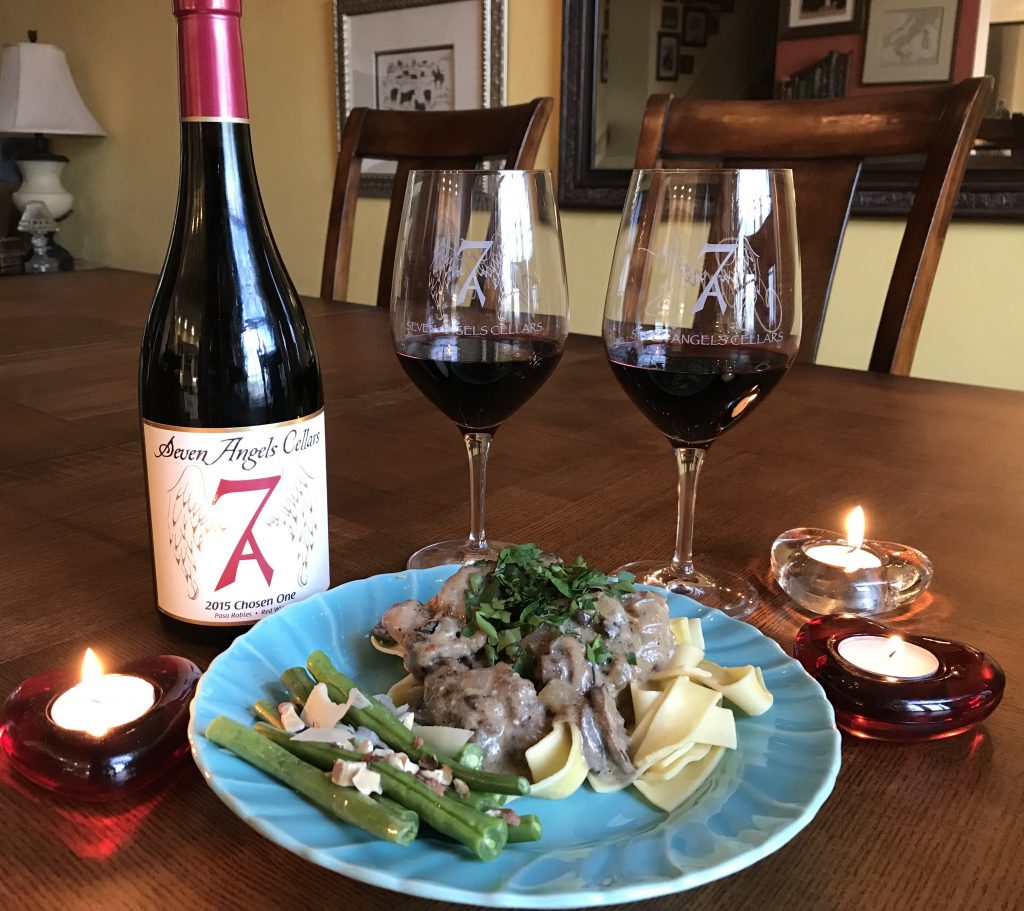 Beef Stroganoff
Ingredients:
1 lb filet mignon, sliced 1/4″ thick (or any tender cut of beef, such as sirloin or flank steak, or ground beef)
1 lb button mushrooms, thick sliced
1/2 c olive oil
1 onion, chopped
3 cloves garlic, minced
1/2 c sour cream (substitute Greek yogurt for a lighter version")
1 can cream of chicken soup (don't judge, it makes a difference)
1/2 c flour
Dry Sherry (optional)
Salt & Pepper to taste
1/2 c chopped parsley
1 lb wide egg noodles
Heat 3 T. olive oil in a large skillet. Saute onion until tender.  Add garlic and cook 1 minute more.  Add the sliced mushrooms to the skillet along with 3 T. more of olive oil.  When the mushrooms are soft and slightly brown, remove the onions, garlic, and mushrooms from the pan and put aside.
Put the steak in a bowl and toss with the 1/2 c. flour and salt and pepper.  
Add the remaining olive oil to the skillet, heat the pan.  Put pieces of sliced beef into the skillet and cook quickly, until slightly brown.  Do not overcook.  The inside should be pink. 
Boil water for noodles.  Cook noodles according to instructions. Drain.
Remove the meat and set aside.  Turn heat down. Return the mushroom mixture to the skillet and add the can of cream of chicken soup and sour cream (or Greek yogurt) and stir until smooth.  When the sauce is warm add the meat and turn off heat.  At this point, adjust seasoning to taste, adding salt and pepper and 1 T. dry sherry, if desired.  
Serve sauce over warm noodles.  Top with chopped parsley.
Hint:  if you're not excited about the soup, you can substitute 1 c. beef stock.  Chopped herbs, such as tarragon add another layer of flavor and freshness.
Serve with fresh steamed green beans topped with toasted almonds and shaved parmesan and a crisp green salad with homemade Green Goddess dressing.
This dish pairs well with Seven Angels 2015 Chosen One, Gold Medal Winner at the 2019 Central Coast Fair.  A Rhone style blend of 29% Grenache, 55% Mourvedre and 16% Syrah – the flavors of ripe berries and spice create a perfect match with the nuttiness of the mushrooms in the sauce.  The flavor of the beef is enhanced by the hint of woodsy cedar on the finish.
Green Goddess Dressing
1/2 c. milk
1 c. mayonnaise
1/4 c. chopped parsley
1/2 c. chopped scallions
1/4 c. chopped spring onion
2 (or more) T. chopped tarragon
1 T. anchovy paste
sea salt & cracked black pepper to taste
baby romaine or baby gem lettuce
Put all ingredients into a blender or food processor and blend.  Refrigerate for one hour to chill.  Toss dressing with baby lettuce.