November 29, 2019
by Carol Hinkle – Rio Seco Vineyard & Winery
Cabernet Franc – not just a blending grape anymore.
Our Cab Franc adventures began here at RIO SECO Winery back in 1997! My husband, Tom, was working for the Detroit Tigers at that time, traveling about 180 days a year. We had recently purchased an old fixer upper ranch that we couldn't wait to turn into a fine Paso Robles vineyard. Countless hours were spent researching, debating, planning for the future of RIO SECO estate wines. Of course, at that moment in time, it was all about the Zinfandels and Cabernet Sauvignons! Little did we realize that one little "oops" changed our destiny. Our original plan for thirty acres was to include one acre of Cab Franc to use for blending when Tom, upon coming home from a baseball road trip, discovered that our "Spanglish" had somehow translated into THREE acres! Lucky us! And, as we were told by esteemed winemaker, John Munch, LeCuvier Winery, "this is a good thing" – we believed him! Our very first gold medal award winning Cab Franc was 1999!
Cabernet Franc is sometimes an under-appreciated grape but it does have its own personality! It is a major and universally grown red wine grape originating as far back as the 17th century from the French Basque region. Principally teamed up with Cabernet Sauvignon and Merlot, this medium bodied grape is a key component in Bordeaux style blends. With fruity, vegetal, and earthy flavors, it lends itself to many interesting food pairings. Lighter in color and lower in tannin than Cabernet Sauvignon, the aromas of cherry, raspberry, and tomato along with savory notes of dried herbs, bell pepper, roasted red pepper perfume, and mint, it complements well with everything from game birds, grilled vegetables, and Italian dishes. Now with the popularity of the food network cooking channels and the passion for collecting celebrity cookbooks , all us "foodies" have the opportunity to explore this wonderful grape in the "art of food pairing"!
One fun fact that is not often talked about is that Cabernet Franc's claim to fame could be that of being the parent grape to Cabernet Sauvignon! Crossed with Sauvignon Blanc in the 1700's , and much later with follow up DNA testing in 1997, studies show Cab Franc has contributed to a very worthy place in wine history!
Thankfully, the marketing strategies over the past 20+ years by many producers have helped educate wine lovers to the elegance of a stand alone Cabernet Franc. It is definitely our most popular wine here in the Tasting Room and also our most in -demand fruit that we grow (on our THREE acres!) to sell to other wine makers! Just as a side note, mark your calendars for December 4th. It's wine discounts and deals in Tasting Rooms all across America on this date as it has been declared National Cabernet Franc Appreciation Day!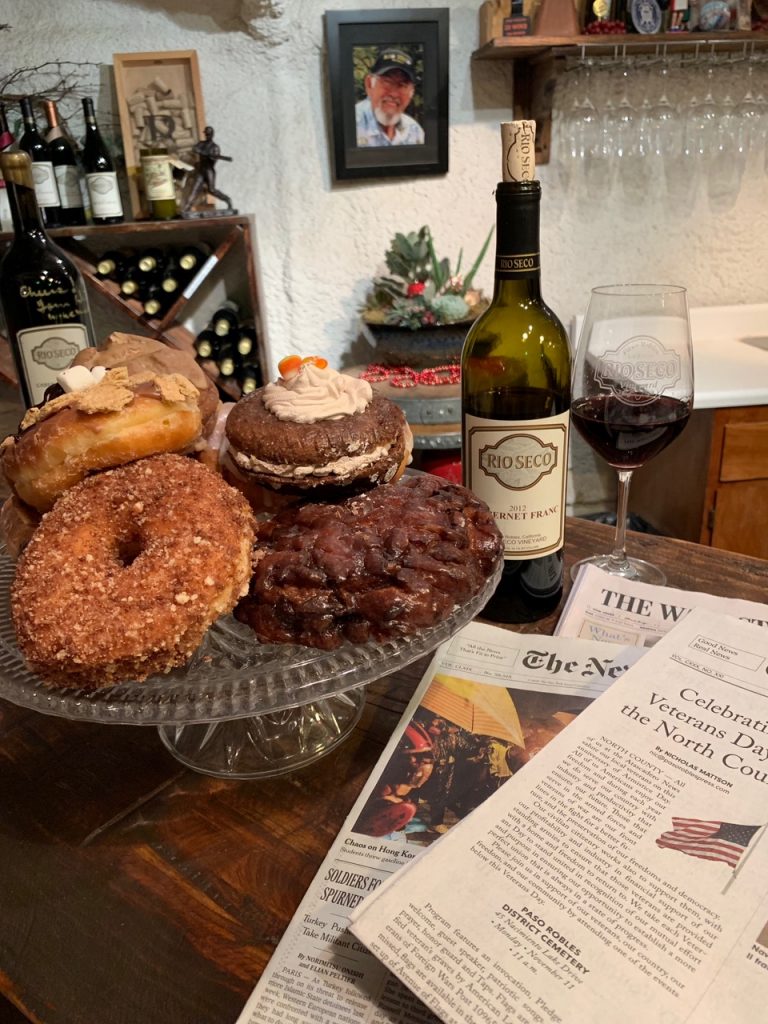 And finally, one of our fondest Cabernet Franc memories to share…Day after day in the Tasting Room we would be extolling the virtues of Cab Franc to anyone who would listen. And of course, people would be insisting that it was definitely used as a blending grape for all those wonderful Bordeaux blends! Yes, true that! But we discovered that while people were saying Amen in church on Sundays, or watching NFL football on TV, we, being slightly irreverent, would shout out a Hallelujah as we indulged in our newest Sunday morning adventure, FRITTERS 'N FRANC in the Tasting Room! No lattes, soy mochas, or light on the whipped cream, you could always find a big box of donuts, the LA Times, the Chronicle, and maybe a USA Today, along with friendly people, stimulating conversation, and an abundant passion for, of course, Cabernet Franc – not just a blending grape anymore! Fun times at RIO SECO, for sure! Come join us!
Cheers!