August 22, 2019
by Michael Mooney – Chateau Margene
"Cab is King." And everyone knows it! (well, almost everyone)
Cabernet Sauvignon is the dominant force in the red wine industry and in most years, the most popular choice among US wine consumers. It makes up 40% of the Paso Robles AVA's (American Viticultural Area) 40,000 acres.
Cabernet Sauvignon came to life in France (Bordeaux region) in the 1600's. UC Davis researchers determined that it was a crossing of Cabernet Franc (Father) and Sauvignon Blanc (Mother). The result was far beyond what the two parents of this newly created varietal could ever achieve.
Cabernet Sauvignon has thick skins, strong tannins, black berry fruit and ages well. It is also able to develop other characteristics and aromas after spending time in oak vessels.
Stylistic and regional differences exist between New world and Old world Cabernet Sauvignons. Generally speaking, Old world Cabs display green pepper/green olive, slate and earthy notes due to the cooler climate. In the Medoc region (left bank of Bordeaux), Cabernet Sauvignon is the dominant grape. New world Cabs (Argentina, Australia, Chile, South Africa and the United States (primarily California) are riper, with more pronounced fruit and softer tannins. They are more drinkable upon release due to the warmer climates. Winemakers in both regions can have a dramatic influence on a wines style by utilizing different techniques and varied barrel programs.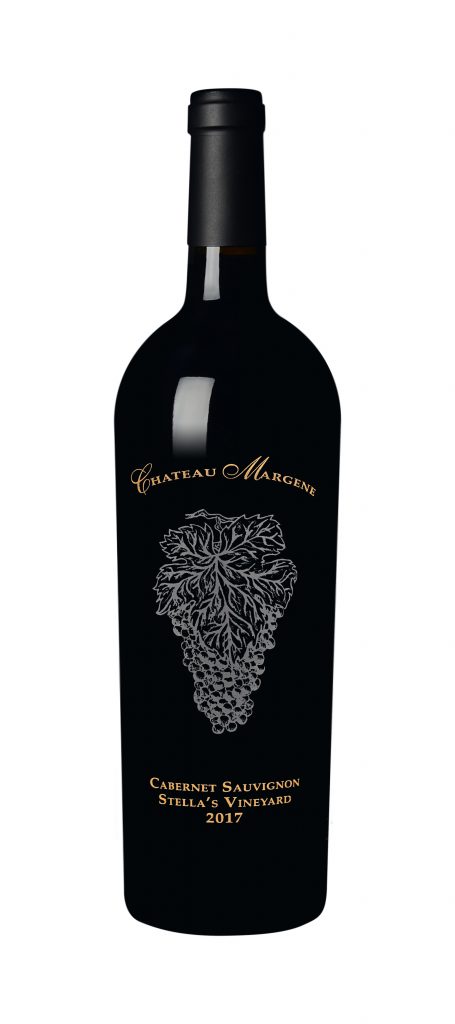 Pair Cabernet Sauvignon with ribeye or sirloin steaks, roast or grilled lamb, braised beef, Portabello mushrooms, brie or aged cheddar cheese.
Our 2017 Chateau Margene Cabernet Sauvignon – "Stella's Vineyard" from the Creston District is inky dark with aromas of black currant, allspice and sweet oak. It displays unctuous blackberry and black cherry through the mid palette, with silky tannins and a long, lingering finish. This is the first wine produced off Stella's Vineyard, which was planted on our estate in 2014. Release date November 16, 2019. Will cellar well through 2030. $84
Listen to The Krush 92.5FM's interview with Chateau Margene's Michael Mooney highlighting the distinguishing features of the Creston District AVA of Paso Robles, California