August 7, 2019
by Angela Mitchell – Mitchella Vineyard & Winery
Mitchella Vineyard & Winery shares their award winning recipe for Shamelessly Soused Shrimp Tacos
In January 2007, we decided to compete in the Paso Robles Rotary's Winemakers Cook-Off – both Darren and I like to cook and create new recipes to pair with our wines. Good cooking and winemaking seem to go hand in hand. For months we experimented with BBQ-ing the very best one bite slider. The first time was the charm and we won the Judge's Choice Award for our Petite Top Sirloin Burgers with Rustic Cheddar Cheese, Caramelized Onions, Heirloom Tomato, Arugula and Cumin Aioli.
The pressure was on and we needed to come up with an equally impressive recipe for the next year. On Friday nights for months we conducted taste tests for the best shrimp tacos, we experimented with blue corn tortillas, flour tortillas, lettuce, etc., but finally decided on thinly sliced jicama. We made multiple variations of toppings, from super spicy to sweet but found that the combination of the Mango Relish and Tomatillo Guacamole was the perfect compliment to bring out the sweetness of the marinated shrimp. For the second year in a row we claimed the title and took First Place in the Judge's Choice Award with our BBQ Shrimp Tacos. The fun thing about these tacos is that they pair famously with both red, like Shameless, our Rhone Style blend, and white wine, and even a Rose like our Reluctant.
The Winemakers Cook-Off is a tasty and spirited event. Get your tickets for this August 10, 2019 event, today!
Mitchella's Shamelessly Soused BBQ Shrimp Tacos
Serves 10-15
2 lb Shrimp 21/25 (Approximately 42 per bag)
1 Cup Mitchella Viognier
8 Color Tortillas in 1/2" slices, fried (garnish)
5 Cloves Garlic Minced
1 medium Jicama
1 tbsp Ground Black Pepper
¼ head Napa Cabbage, grated
1 tbsp Cumin
1 Lemon
1 tbsp ground oregano
1 Lime
1 tbsp Brown Sugar
Thinly Sliced & Fried Colored Tortilla Strips for garnish.
Clean the shrimp, butterfly, marinate in the zest and juice of the lemon and lime, wine, garlic, black pepper, cumin, ground oregano, and brown sugar for 3-12 hours. Save the marinade for basting when Barbecuing. Thinly slice the jicama using a mandolin or slicer into 22 pieces. BBQ the shrimp, basting frequently, three minutes each side until opaque. Arrange two BBQ shrimp on a slice of jicama, a bit of Napa Cabbage, 1 tablespoon Guacamole, ½ tablespoon Mango Relish, top with three fried colored tortilla strips.
Tomatillo Guacamole
Serves 10-15
Topping for the Shamelessly Soused Shrimp Tacos
½ lb Tomatillos Halved Roasted 1 tbsp Lime Juice
6 Cloves Minced Garlic 1 tbsp Cilantro
¼ Cup Finely Chopped Onions 1 tbsp Mayonnaise
2 Avocados halved, diced
1 Serrano Chile Chopped
Roast the tomatillos in 425° oven for about 30 minutes until soft and brown. Place tomatillos and chile in food processor or blender. Process until a coarse puree forms. Pour puree into medium bowl. Mix in all remaining ingredients. Season with salt and pepper to taste. Cover and chill, can be made 24 hours ahead. Makes about 2 ½ cups.
Mango Relish
Serves 10-15
Topping for the Shamelessly Soused Shrimp Tacos
1 Mango chopped
½ Cup Red Onion chopped
1 Red Tomato seeded and chopped
½ Cup Red Bell Pepper chopped
¼ Cup Cilantro chopped
1 tsp Red Chili Flakes
1 Lime juiced 1 tbsp Honey
Mix all of the ingredients together, season to taste with salt and pepper. Ok to substitute the Red Chili Flakes with fresh chili paste in the produce section, then use 1 tablespoon. Season with salt and pepper to taste. Cover and chill, can be made 24 hours ahead. Makes about 1 cup.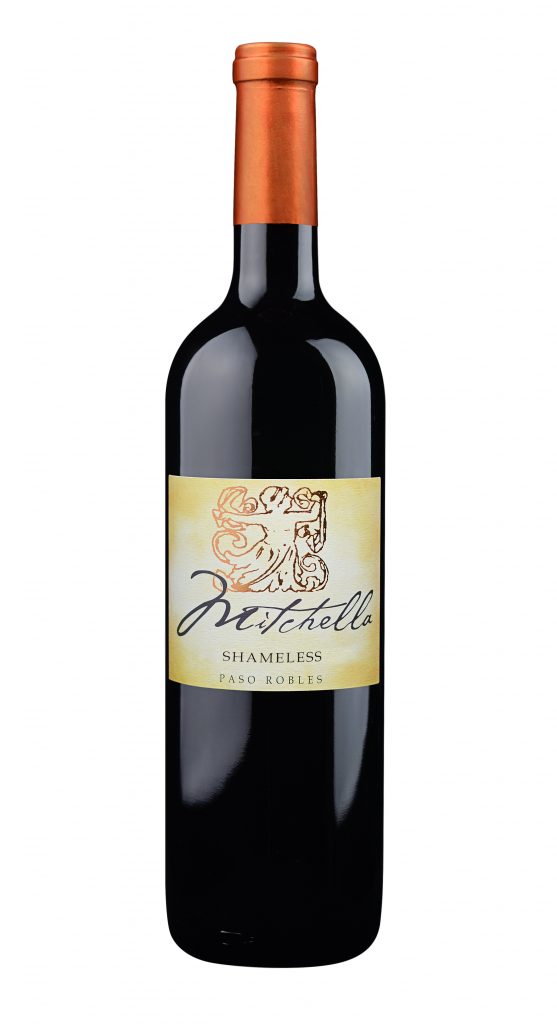 Pair with Mitchella "Shameless", our Estate Rhone Blend of 30% Mourvèdre, 25% Petit Sirah, 25% Syrah, and 20% Grenache. It's packed with fruity aromas of cherry, blackberry, and raspberry and delicately balanced by rich silky tannins with hints of blueberry, spice, and a touch of earthiness.
From our home to yours – enjoy!
Visit our website for more delicious recipes and to learn more about our winery and wines.