July 29, 2019
If you're a fan of Spanish wines, you surely have become familiar with Albariño, produced mainly in the Rías Baixas wine region along the western Galician coastline in the north of Spain. Here, this racy but highly approachable wine expresses itself with floral, oceanic and citrus aromas, and crisp minerality.
Enjoying Albariño in California
This summer, if travel plans don't include Spain, consider a visit to the Central Coast of California, where Albariño has been embraced by many wineries in Santa Ynez, Edna Valley and Paso Robles. In these areas the wine leans towards a lusher expression, with flavors of apricot and peach, citrusy notes and plenty of minerality-driven acidity. Combined with a hint of brininess, it is the perfect match for pairing with seafood.
The varietal, has become so popular that the Annual Festival of Albarino-California Central Coast, held in Paso Robles, was begun in 2016 to showcase the area's Albariño wines and educate consumers who want to learn more about the history and characteristics of the varietal.
Barr Estate Winery
One festival participant, Barr Estate Winery, chose to produce Albariño to provide an alternative white wine to offer visitors to their Paso Robles tasting room. Since their first vintage in 2009, the wine has become one of their most popular selections. "It seems to do well on our vineyard where our soil is similar to the area of Spain where the varietal is from", says Barr Estate Winery co-owner Tealy Barr.
The estate's Albariño is harvested at low brix to maintain a high level of acidity and retain the fruit's natural aroma. Harvesting is done in the early morning to ensure the fruit is cold, then dry ice is used throughout the crush process to keep the fruit cold and to protect the juice from oxidation. The winery produces approximately 260 cases of Albariño, and keeps the alcohol down to 12.68%.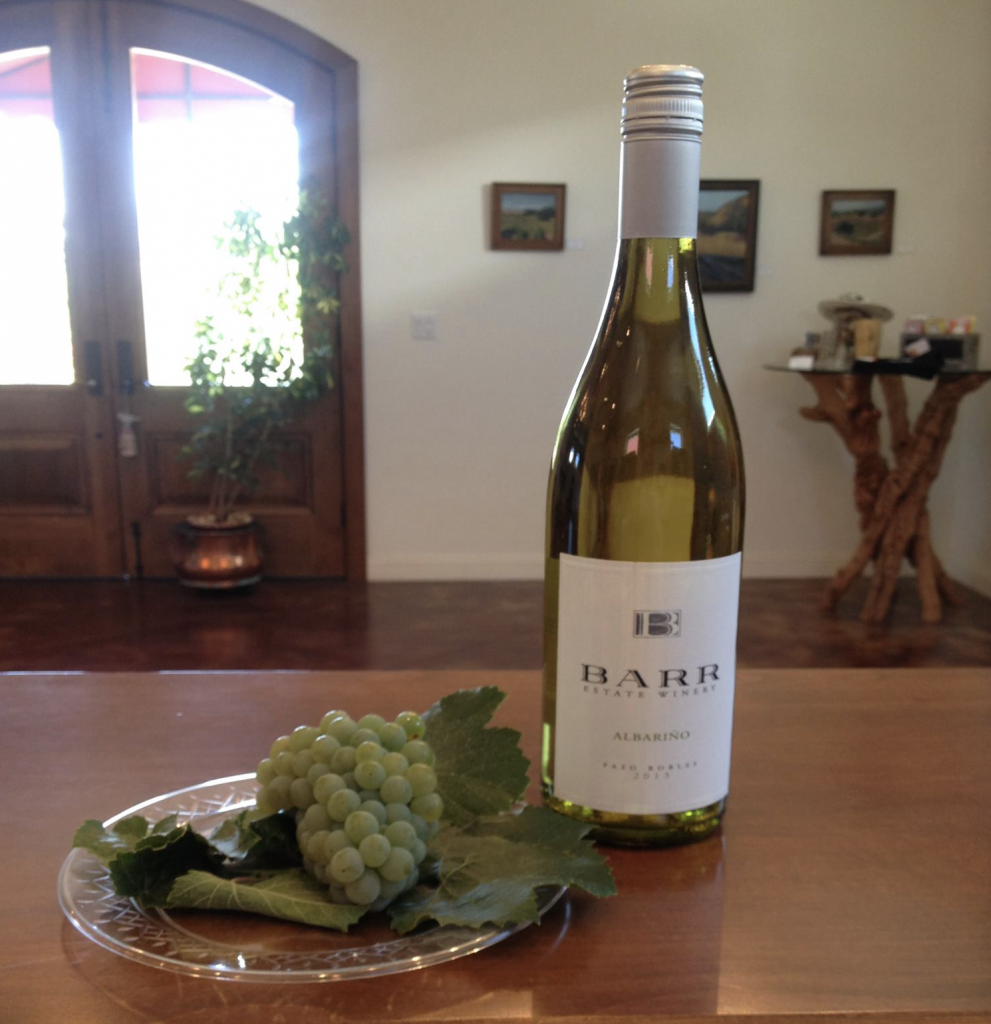 Barr Estate Winery's Albariño is a crisp zesty white wine done in stainless steel. Tasting will reveal zesty fruit hints of apricot, peach and grapefruit, and firmness in the mouth with a dry finish. So refreshing on a hot day! Besides seafood like calamari, oysters, shrimp, scallops and crab, it pairs deliciously with chicken salad, white fish and baked goat cheese.