December 20, 2016
Pozole, the traditional corn soup, or stew, from Mexico, is a great way to ward off the chill of winter.
Alma Ayon, proprietress and chef at Sundance Bed and Breakfast in Paso Robles, enjoys a break from gourmet cuisine once in a while. During the cold fall and winter months, she looks to a traditional family favorite, pozole, to take the chill off a day in the vineyard. Who can deny the comforting feeling of putting together a soup or stew and letting all the spicy aromas fill the house?
So put the pork up to cook, and use the time to binge watch your favorite TV series, read a book, or……  And don't forget the wine. Alma suggests pairing this dish with CASS viognier.
POZOLE
Serves 8-10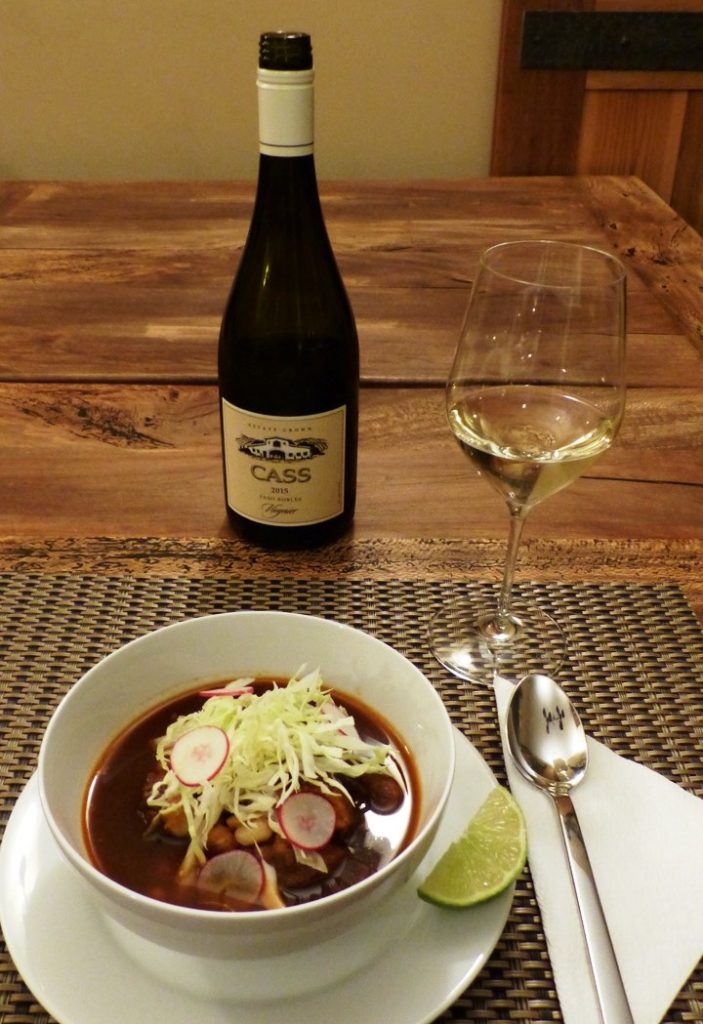 Ingredients
Pork and Broth:
3 lbs. boneless pork butt, cut in 2½ inch chunks
14 cups water
½ onion
1 bay leaf
3 25 oz. Cans Mexican Style Hominy (rinsed)
Kosher Salt or Knorr Chicken Bouillon
Red Sauce:
5 Ancho chiles, stems and seeds removed
5 Guajillo chiles, stems and seeds removed
½ onion
5 garlic gloves
4 cups water
Garnish:
Finely shredded cabbage
Thinly sliced radish
Dry oregano (Mexican)
Limes (quartered)
Cilantro sprigs
Place the pork, ½ onion, bay leaf, salt, in a large pot and cover with 14 cups of water. The pork should be completely covered by about 4 inches of water. When the water comes to a boil, skim the surface and cook covered over medium heat for 2 ½ hours. Skim a few times during cooking process.
In a separate medium pot, cook chiles, onion and garlic for approximately 20 minutes. In a blender (Vitamix) purée the chiles with the water, onion and garlic. Strain and add to the pork. Add the hominy and cook everything together in low heat for an additional 20 minutes. Pork should be falling apart tender.
Adjust salt — most abuelitas, grandmothers, prefer to season soups with Knorr Chicken Bouillon, instead of salt, for a more flavorful broth.
Note: Pozole is a soup. Add chicken broth to the pot is the liquid level is low and adjust salt as needed.
Service:
Serve in deep bowls and garnish with shredded cabbage, radish, cilantro and a pinch of crumbled oregano. And don't forget to squeeze some lime juice!  Serves 8-10