December 2, 2015
Clafoutis – a Christmas morning tradition at Shadow Run Vineyards
We all have a favorite holiday meal.  Perhaps it is an annual luncheon with friends, a brunch with neighbors, a special dinner with candles, crystal and Grandmother's china or a scrumptious breakfast on Christmas morning.  And while many families prepare traditional dishes that are repeated every holiday season, we enjoy experimenting with at least one new recipe each year.  And because we are winemakers, we are always curious about, "what wine will pair with this dish?"
A favorite dish for Christmas breakfast is Clafoutis, a classic French dessert typically baked with fresh cherries.  Clafoutis is easy to prepare, not too sweet, and is just custardy-eggy enough to make a luscious breakfast dish. Our French neighbor has taught us that any fruit in season (except apples which won't cook through) can be used to top Clafoutis.  In summer we use fresh peaches and at Christmas we substitute fresh pears for the cherries.  We drizzle the baked Clafoutis with a touch of our late harvest viognier, Jess, and serve with a dollop of cold whipped cream.  Because Jess has the classic viognier flavors of peach, apricot and pear, it pairs beautifully with this traditional French dish. Enjoy Clafoutis warm from the oven with a glass of chilled Jess.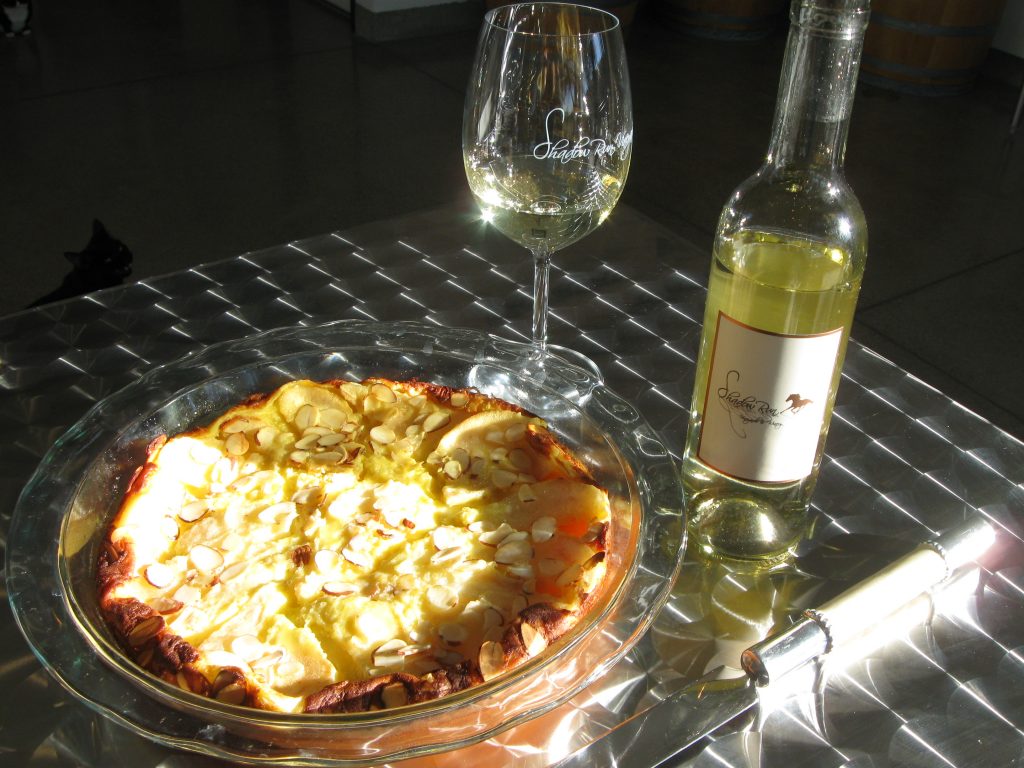 Clafoutis
Ingredients:   
1 cup whole milk
3 eggs
½ cup sugar
1 tsp vanilla
2 tbsp melted butter
½ cup flour
1 – 2 pears, peeled, cored and thinly sliced
2 tbsp sliced almonds (optional)
2 tbsp Jess for drizzling
Preheat oven to 475 degrees.  Whisk together the milk, eggs, sugar, vanilla and melted butter.  Mix the flour into the batter last, and whisk until smooth.  Pour batter into a 9 inch pie pan.  Arrange pear slices on top of the batter.  Sprinkle with sliced almonds, if using.
Bake 25 minutes
Drizzle 2 tbsp of Jess over the finished Clafoutis
Serve with whipped cream and a chilled glass of Jess.  Heaven!