August 26, 2015
Celebrate International Cabernet Sauvignon Day, August 27th, 2015, with the Back Roads Wineries of Paso Robles.
Cabernet Sauvignon is the Paso Robles AVA's most widely planted wine grape variety, making up almost half of the grapes grown across the 32,000 acres under vine. While cabernet has been king in Paso Robles for decades, it is in the past 10 years that the diversity of cabernet styles from the area have emerged as cutting edge wines from this robust wine producing region.
Many of our Back Roads Winery members produce outstanding cabernet sauvignon and cabernet franc and we invite you to visit often and explore the Paso-bilities.
Meanwhile to help you celebrate your Cabernet Day, Mitchella Vineyard and Winery has  shared 3 cabernet-friendly recipes for you to try. They won the Paso Robles Rotary Winemaker's Cook-Off "Judges Choice" with the Petite Sirloin Burgers.Whether you try one of these delicious recipes or just throw a thick rib-eye on the barbecue, enjoy the day and the wine with good friends and family. Cheers to #CabernetDay!
Beef and Beer Stew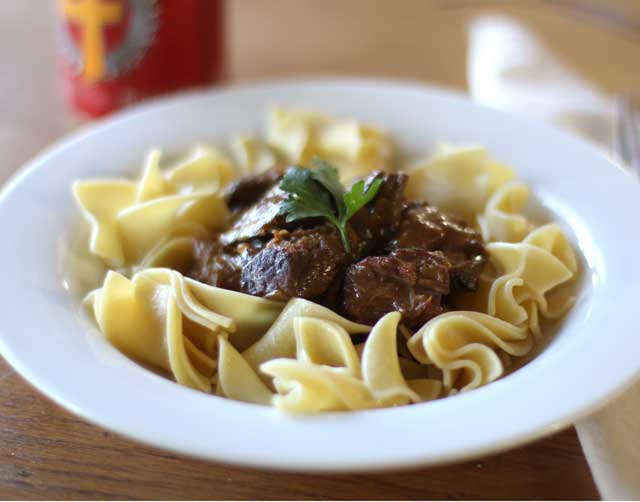 Ingredients
2-3 Pounds of Beef Stew meat or other cut into 1" cubes
1/4 Cup Flour
4 Cups Beef Broth
1 Bottle Dark Beer
2-3 Large Sweet Onions—Thinly Sliced
1 Tablespoon Fresh Thyme
1 Teaspoon Salt
1/2 Teaspoon Pepper
2 Teaspoons Paprika
4 Tablespoons Olive Oil or Walnut
2 Tablespoons Brown Sugar
2 Bay Leaves
Directions
In a food storage bag, combine the flour, paprika, and salt. Add the beef cubes and toss to coat. Heat 2 tablespoons of the oil in a large heavy pot over medium-high heat. Add the beef and cook, stirring, for about 4 to 5 minutes, until browned. Do not over crowd, cook in batches, remove and set aside. Heat the remaining oil in the pot with the scrapes, add the onions and cook until translucent, about 10-15 minutes, add 2 tablespoons of brown sugar and cook another 2 minutes. Add the beef broth and scrape any remaining bits from the bottom of the pot. Add the beef and collected juices, add the thyme, bay leaves, pepper, and beer. Cover and simmer on low for 2 hours. Remove the bay leaves. Serve over noodles or rice.
Empanadas
Ingredients
1 Cup Shredded Chopped Chicken
1/2 Cup Golden Raisins
1 Tablespoon Mexican seasoning (1/2 Cumin and 1/2 Garlic Powder)
1/2 Cup shredded Mexican cheese
4 Tablespoons Cowboy Ike's Cabernet Jelly (or to taste)
1 Egg
1 Tablespoon of finely chopped canned Chipotle peppers
1 (15-ounce) box refrigerated pie crusts (recommended: Pillsbury)
Directions
Preheat oven to 400 degrees F. Line 2 baking sheets with parchment paper.
In a medium bowl combine chicken, golden raisins, seasoning, cheese, jelly and chopped chipotle peppers.
Unroll pie dough, using a 3-inch round cutter, dusted with flour and cut out as many rounds as possible, 10-12 for each sheet, should have between 20-24 rounds. Beat the egg lightly in a small bowl, set aside. To assemble empanadas, fill the center of each round with approximately 1/2 tablespoon of the mixture. Brush half of the perimeter of each dough round with the egg wash. Fold over 1 side of the round to make a half circle. Crimp the edges of each empanada with tines of a fork. Place empanadas on prepared baking sheets. Brush each top lightly with egg wash and sprinkle each with a little of the remaining cheese.
Bake in preheated oven for 18 to 20 minutes or until golden brown.
Petite Top Sirloin Burgers with Rustic Cheddar, Caramelized Onions and Heirloom Tomatoes
2 ½ pounds Fresh Ground Top Sirloin (90/10)
8 oz Assorted Wild Mushrooms or Baby Bellas
1/3 Cup High Quality Red Wine like Mitchella
12 cloves Garlic
10 Slices Rustic Aged Sharp Cheddar
4‐6 Small Heirloom Tomatoes
2 Medium Sweet Onions
1 Cup Fresh Aioli or Mayonnaise
1 Tbsp Salt
2 Tbsp Ground Cumin
4 Tbsp Olive Oil
2 Tbsp Balsamic Vinegar
2 Tbsp Dark Brown Sugar
1 Pound Butter
2 Baguettes San Luis Sourdough
1 Cup Arugula
Makes approximately 40 mini burgers
Coarsely chop six cloves of garlic and sauté in 2 tbsp of olive oil, coarsely chop the mushrooms and add to the garlic, continue sautéing for 10 minutes, add 1/3 cup red wine, simmer until liquid is reduced.
Remove, and cool mushrooms in large mixing bowl.
Thinly slice onions and sauté in 2 tbsp of olive oil until a light golden brown, about 15 minutes. Carefully, add 2 tbsp of balsamic vinegar stir until reduced, quickly add, still stirring 2 tbsp of brown sugar, simmer until caramelized, about 7 minutes. Remove to small bowl and cover.
Add 1 tbsp cumin to one cup of aioli or mayonnaise, mix well, refrigerate. Quarter the slices of cheddar cheese. Slice the tomatoes into 2‐3" rounds. Slice the sourdough baguettes in to ¼ inch slices.
Add 1 tbsp cumin to cooled mushrooms, 1 tbsp salt, and fresh ground sirloin. Mix and form into small patties, just less than 1/8 cup per patty. Add butter and 6 cloves of garlic to heat proof pan on BBQ, add sliced sourdough, grill on BBQ until golden brown. Grill hamburgers for 2 minutes, turn add cheese, remove when cheese has melted.
Assembly: Sliced sourdough, 1 tsp cumin aioli, burger with cheese, heirloom tomato, caramelized onion, arugula, then top with sliced sourdough. Enjoy!