August 7, 2015
by Mary Morwood Hart of AmByth Estate – August 2015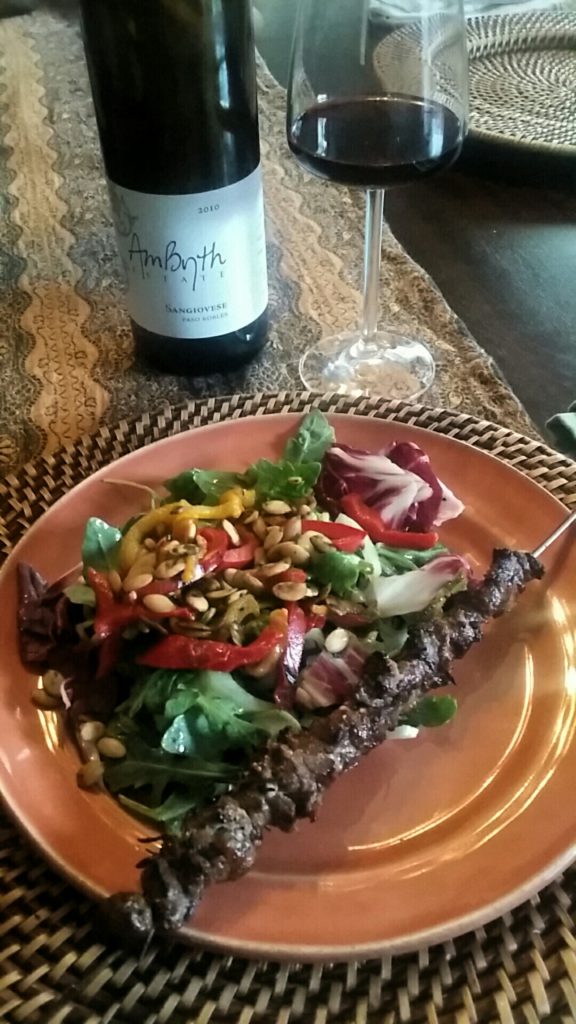 A brief history of the dish…..
Phillip and I have traveled throughout Italy practically every year for the past 17 years (it helps that Phillip has a sister who lives in Tuscany). But a couple of years ago we spent 10 days in the Abruzzo region visiting a fellow winemaker/friend. We tasted a dish that is unique only to Abruzzo and we were blown away. It is so simple, yet so tasty.  All it is is skewered mutton.
Arrosticini is the food of the mountain shepherds – it is easy and tasty. Typically it is mutton that is cubed in ¼" x ¼". The cubes are then laced with bits of fat to soften the mutton. The skewers are marinated for a couple of hours and cooked over open fire or a special grill just for the arrosticini. At AmByth, we cook them in our "beehive oven" (a Portuguese clay oven) on a salt block. They can also be bar-b-qued.
We serve the Arrosticini as a second course with a side salad of arugula and radicchio, tossed with tomatoes, roasted bell peppers, thinly sliced cucumber, pumpkin seeds and sunflower seeds with a shallot/lemon juice/Dijon mustard/evoo vinaigrette dressing.  The first course could be fresh pasta with a barely sautéed zucchini sauce.
ARROSTICINI
Recipe—Serves 4
1 pound rough piece of lamb—prime cuts not necessary, the more fat, the better. We use shoulder, stew meat, etc. At AmByth we raise our own lamb, so we have an abundance of meat to select from
Cube the lamb pieces into ¼" to ½" pieces. Thread them onto 8 skewers with plenty of pieces with fat evenly distributed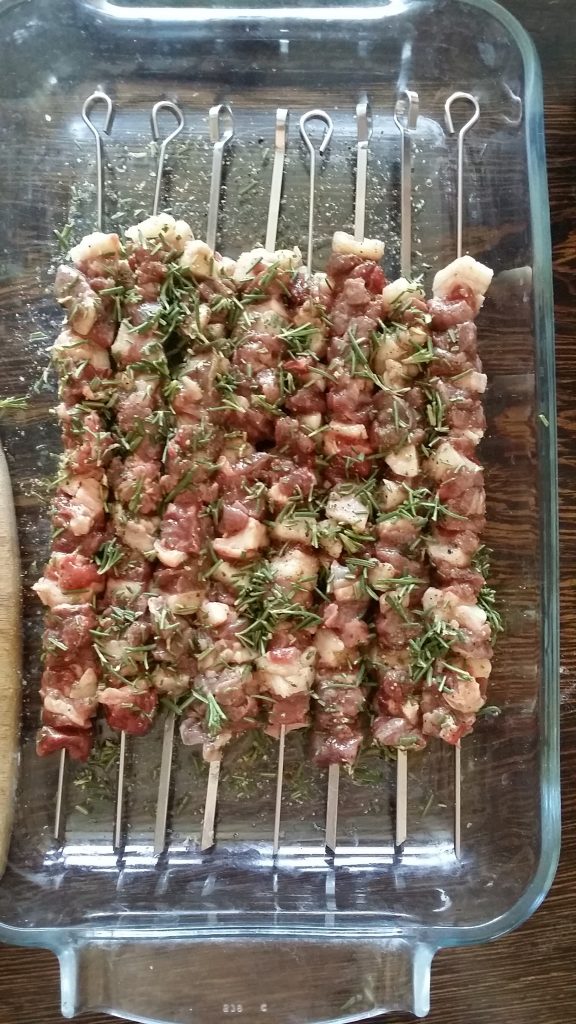 Marinate the skewers for a couple hours in the juice of 1 lemon, 2 tablespoons olive oil, 1 tbs chopped rosemary and 2 finely chopped cloves of garlic
Grill until cooked and sprinkle with salt and pepper
Wine Pairing: 2011 AmByth Sangiovese
AmByth Estate is Paso Robles' first and only winery to produce Demeter certified Biodynamic wines. We utilize the Biodynamic method of farming to enhance our observations of nature, and use these intimate insights as tools that allow our 20 acres of vineyards to express their true character through the grapes it produces.
Estate Vineyards: Mark's Vineyard, StoneCross Hill, Terrace, PlayGround.
Estate Varietals Grown:

Whites: Marsanne, Roussanne, Viognier, Grenache Blanc. Reds: Syrah, Mourvedre, Grenache, Counoise, Carignan, Sangiovese, Tempranillo

Estate Olive Trees:

Arbequina, Arbosana, Lechen de Sevilla, Cornicabra, Picual, Hojiblanca, Empeltre, Manzanilla