February 18, 2015
Gelfand Vineyards shares their wine country recipe and wine pairing.
Gelfand Vineyards is a small, family owned and operated boutique winery in Paso Robles, California, specializing in BIG REDS.  Although we have been around since 2001, we are virtually unknown outside of the area, except to our 900 wine club members who have found us during special open dates.  (We are only open to the public 3 weekends out of the year during festivals). We produce about 1500 cases a year, all coming from our estate grown Cabernet, Syrah, Zinfandel and Petite Sirah grapes.  We don't have a distributor, so you wont find us at your local wine shop, or in any fine dining establishment.  But if you have the chance, please visit us during the Vintage Paso Zinfandel Weekend in March, Wine Festival in May or Harvest Wine Weekend in October, or just call for an appointment. We'd love to see you!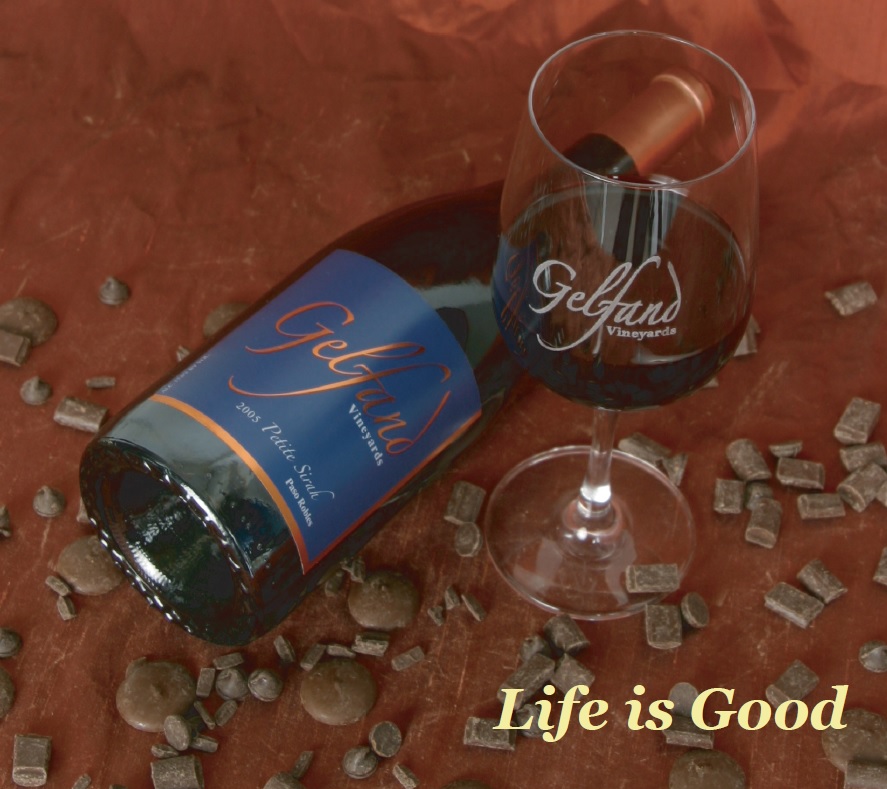 For this months recipe,  pairing our rich and full bodied Petite Sirah with a pork tenderloin was a no brainer. The two just seem to belong together.  The flavoring of the pork along with the bouquet of the wine compliment one another beautifully. Accompanied with a small salad, and the balance of the bottle of Petite left over from the recipe ( unless consumed while making the dish) it makes a perfect weeknight dish for just two or a great meal to serve to family and friends with your best china.
Enjoy and "Drink the Dream"
Jan & Len Gelfand
Pork Tenderloin with Gelfand Vineyards Petite Sirah
(although some my refer to this dish as Gelfand Vineyards Petite Sirah  with Pork Tenderloin)
1   pork tenderloin
1   tablespoon olive oil
¾   teaspoon Kosher salt – divided
½   teaspoon black pepper – divided
1 ½ cups   blackberries
¼   cup finely chopped shallots
1   tablespoon chopped fresh thyme
½ – 1 cup   Gelfand Vineyards Petite Sirah  ( it is permissible to double this amount and use half of it to enjoy while making the recipe)
¾ cup   chicken stock
1.       Heat a large nonstick skillet over med-high heat.   Add oil to pan.   Swirl to coat.  Sprinkle pork with ½ teaspoon of both the salt and pepper.  Add pork to pan and cook for 8 minutes, turning on all sides till browned.  Transfer to a lightly oiled baking sheet.
2.       Bake 30 minutes or until a meat thermometer inserted into the thickest part of the meat registers 160 degrees.   Transfer meat to a cutting board: let rest.
3.       Add blackberries, shallots and thyme to skillet and sauté 2 minutes or until slightly softened.  Add wine, and cook one minute or until syrupy.   Add chicken stock and any juices from the pork.
4.       Cook 5 minutes or until thickened and reduced to about ½ – ¾ cup.  Stir in remaining salt and pepper
5.       Cut pork into ¼ – ½ inch slices and serve with the sauce and an additional glass – or two – of Gelfand's Petite Sirah.