December 29, 2014
by Marina Dawson, Hansen Vineyards  
Hansen Vineyards, producers of fine Cabernet Sauvignon from Paso Robles, shares a recipe and wine pairing.
If you have visited Hansen Vineyards, then you have become familiar with Bruce Hansen and his award winning wines. He is most known for his sarcastic personality and some of the most delicious Cabernet Sauvignon in the state. You would never know that Bruce is a patient man until you start talking to him about how he makes his wine. By using only top quality French barrels, he is able to just let his wine age to perfection, sometimes up to four years, without touching it until he is ready to bottle. This creates a wonderfully complex, yet simple body to the wine with the smoothest finish. One of my favorite questions I love to hear asked in the tasting room is, "What food do you pair with your wines?". Since Cabernet Sauvignon is typically such a big wine, it is more often paired with hearty red meat based dishes including steak, roasts and ribs. Although, depending on the flavors and textures of the wine, you may often see it paired with pork, chicken, or lamb dishes. Being that I love to cook and try new recipes, I wanted to pair the Hansen Vineyards 2010 Reserve Cabernet Sauvignon with one of my family's favorite dishes around the holidays because it is hearty and tasty – something a bit different from a traditional steak. The 2010 Reserve is a beautifully complex and simple wine, that has quite a lot of flavors that mesh together and become smooth as velvet. There are dark cherry and spicy earthy notes to it with hardly any harsh acidity, which is why I chose to pair it with Bourbon Glazed Double-cut Pork Chops with roasted herb potatoes. There are so many flavors in this dish that go perfectly with the wine and it is great any time of year. Pepper, sweet, savory… I hope you all enjoy it as much as we do!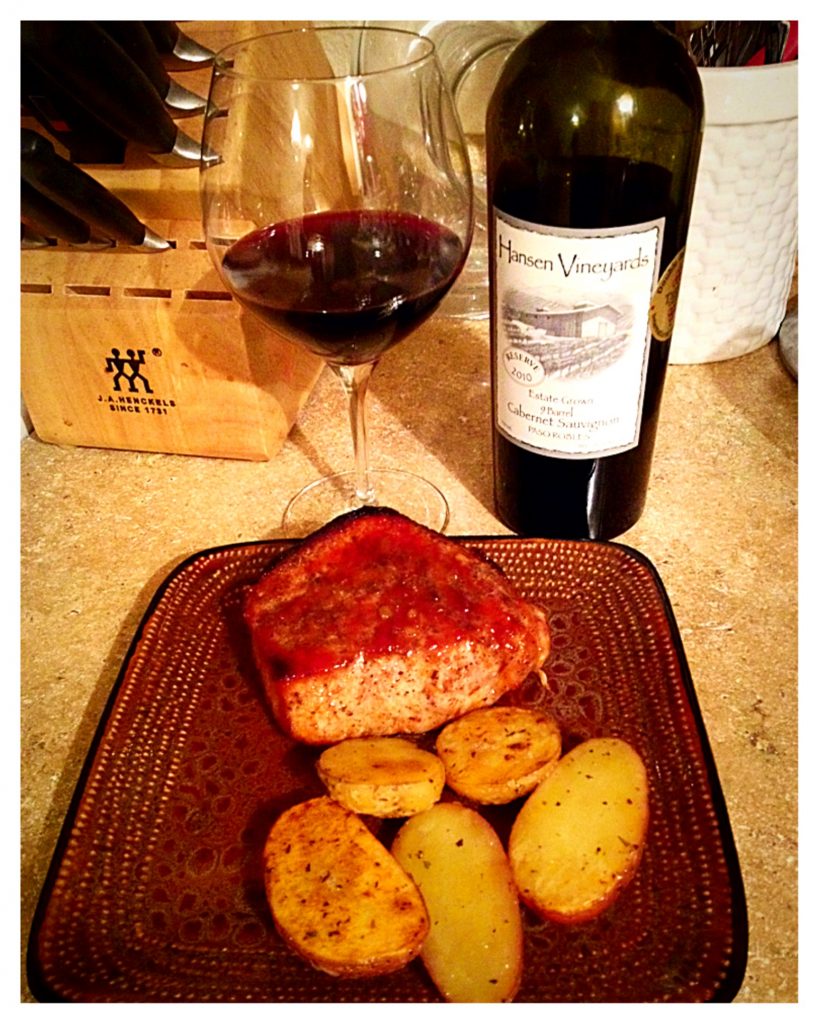 Bourbon Glazed Double Cut Pork Chops with Roasted Herb Potatoes
Ingredients For the Pork:
Kosher salt
1/4 cup coarsely ground black pepper
2 tablespoons packed dark brown sugar
2 teaspoons smoked paprika
4 double-cut pork loin chops (about 1 pound each)
Olive oil, for the grill
Ingredients For the Sauce:
4 tablespoons unsalted butter
8 cloves of garlic, minced
1 cup apple cider vinegar
3/4 cup packed dark brown sugar
1 1/4 cups ketchup
1 1/4 cups apple juice
1 cup maple syrup
1/2 cup bourbon
1/4 cup Worcestershire sauce
1/4 teaspoon cayenne pepper
Kosher salt and freshly ground
black pepper to taste (I like to add a little more pepper personally)
Prepare the pork: Mix 2 tablespoons salt, the black pepper, brown sugar and paprika in a bowl, then rub all over the chops. Wrap in plastic wrap and refrigerate 2 to 4 hours, up to 2 days.
Meanwhile, make the sauce: Melt the butter in a saucepan over medium heat, then add the garlic. Stir in the vinegar and brown sugar until dissolved. Add the ketchup, apple juice, syrup, bourbon, Worcestershire sauce, cayenne, 1 tablespoon salt and 1 1/2 teaspoons black pepper and bring to a boil. Reduce to a simmer and cook until thickened, about 30 minutes. Puree with an immersion blender or in a regular blender. (The recipe makes a lot of sauce, so you can store it in the fridge for later use).
Preheat a grill to medium. Brush the grates with olive oil, then place the chops directly over the flame and grill until marked and cooked halfway through, about 15 minutes. Turn the chops and place on a cooler area of the grill (such as the edges); cover and cook until a thermometer inserted into the thickest part registers 140 degrees F to 145 degrees F, 15 to 20 minutes. Uncover and brush the chops on all sides with the prepared sauce, then cover and cook until glazed, about 5 more minutes. Transfer to a cutting board and brush with more sauce. Tent with foil and let rest 10 minutes. Serve with more sauce.
For the potatoes:
4-8 small red potatoes, washed and cut in half
4 tablespoons unsalted butter
1/4 teaspoon Kosher salt
1/4 teaspoon coarse ground pepper
1/4 teaspoon rosemary
1/4 teaspoon thyme
1/4 teaspoon oregano
1 stick of rosemary
Place the cut potatoes into a ziploc bag. Combine the herbs and add them to the potaoes, then shake the potatoes until they are covered in the herbs. Place the potatoes into the skillet with the butter, add the stick of rosemary, cover, and cook until the potatoes are slightly soft, about 20 minutes.