October 19, 2014
by Steve Cass
The CASS Winery Café shares their recipe for their popular crab cakes.
While our son, Bryan, was in graduate school in Adelaide Australia, Alice and I had a great excuse to visit the really big island. On one of our trips, Bryan and I spent a day in the Coonawara, wine tasting.  By mid-day we were hungry and started asking around for a place to get some lunch.  We were told there was only one place in the area that served food, and we'd probably need reservations. Since we were there visiting the week before Christmas, every tasting room we visited was totally dead…no other customers, so we were skeptical about the need for reservations. It took us a while to find it, it was not in the middle of nowhere, but it was close. When we did find it,  we discovered the place was packed and had to fight our way through the doors and then wait for a table. Thus was born the idea of serving lunch at CASS Winery.
Our first menu item was a crab cake recipe that my wife Alice has had for many years. It pairs  really well with our CASS Viognier and has been our best selling lunch item every month for the 7 years we have had the "cafe" open to the public. We get many requests for this recipe and here it is just in time for your fall holiday entertaining. Enjoy!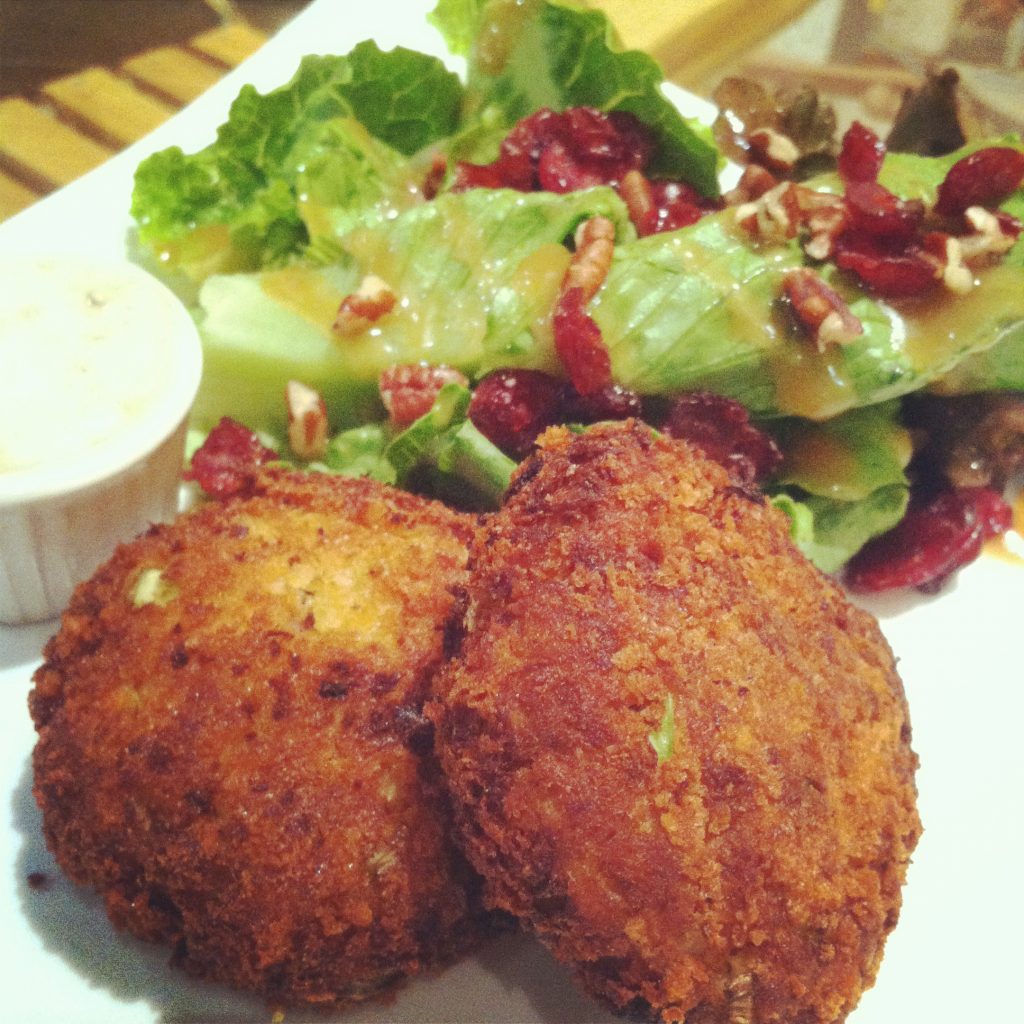 CASS Winery Crab Cakes with Corn
1 lb. crab meat (we use Phillips Crab)
1 cup cooked corn (frozen petite white corn works well)
¼ cup finely diced onion
½ cup finely diced pepper (green, red, orange, yellow, or purple)
½ cup finely diced celery
1 cup mayonnaise
½ teaspoon dry mustard
Pinch of cayenne pepper
Salt & freshly ground black pepper, to taste
1 egg, lightly beaten
1 ¼ cups saltine cracker crumbs
2 tablespoons olive oil
2 tablespoons unsalted butter
Tartar Sauce (recipe follows)
~   Combine the crabmeat, corn, onion, pepper, and celery in a bowl, and toss with a rubber spatula..
~   In another bowl, combine the mayonnaise with the mustard and cayenne pepper.  Stir into the crabmeat mixture, and add salt and pepper.  Gently fold in the egg and ¼ cup of the cracker crumbs with a spatula.
~   Form the crab mixture into eight patties.  Carefully coat the patties with the remaining 1 cup cracker crumbs, and chill, covered, for at least 30 minutes.
~   Heat 1 tablespoon of the oil and 1 tablespoon of the butter in a medium-size skillet.  Cook the crab cakes over medium heat until golden on both sides, about 3 minutes per side, adding more oil and butter as necessary.  Serve immediately, with Tartar Sauce on the side.
Tartar Sauce – Makes 1 1/2 cups
1 cup mayonnaise
2 tablespoons fresh lemon juice
1 teaspoon Worcestershire sauce
Dash of Tobasco sauce
¼ cup finely diced dill pickle
¼ cup chopped fresh Italian (flat-leaf) parsley
2 tablespoons finely minced shallots
2 tablespoons tiny capers, drained
Salt and freshly ground black pepper, to taste
Mix the mayonnaise, lemon juice, Worcestershire sauce, and Tobasco together in a bowl.  Fold in the pickle, parsley, shallots, and capers.  Season with salt and pepper, and refrigerate, loosely covered, at least 1 hour before serving (so the flavors will come out).