June 17, 2014
Written by Pat Hoover, Still Waters Vineyards
Summer is a great time to pack a picnic and head out to your favorite winery for some food and wine pairings.
Here in Paso Robles in the heart of Central Coast Wine Country, we are celebrating the lovely month of June with all sorts of wonderful excuses for getting your friends together!  June is known for so many great activities and Still Waters Vineyards is the perfect setting to enjoy them all.  June is the time of celebration for graduations, Summer Solstice and Father's Day.
It is also Fresh Fruit and Vegetable Month and Carlos and Charlie do their best to keep our complimentary vegetable cart stocked with all sorts of great additions to your picnic basket.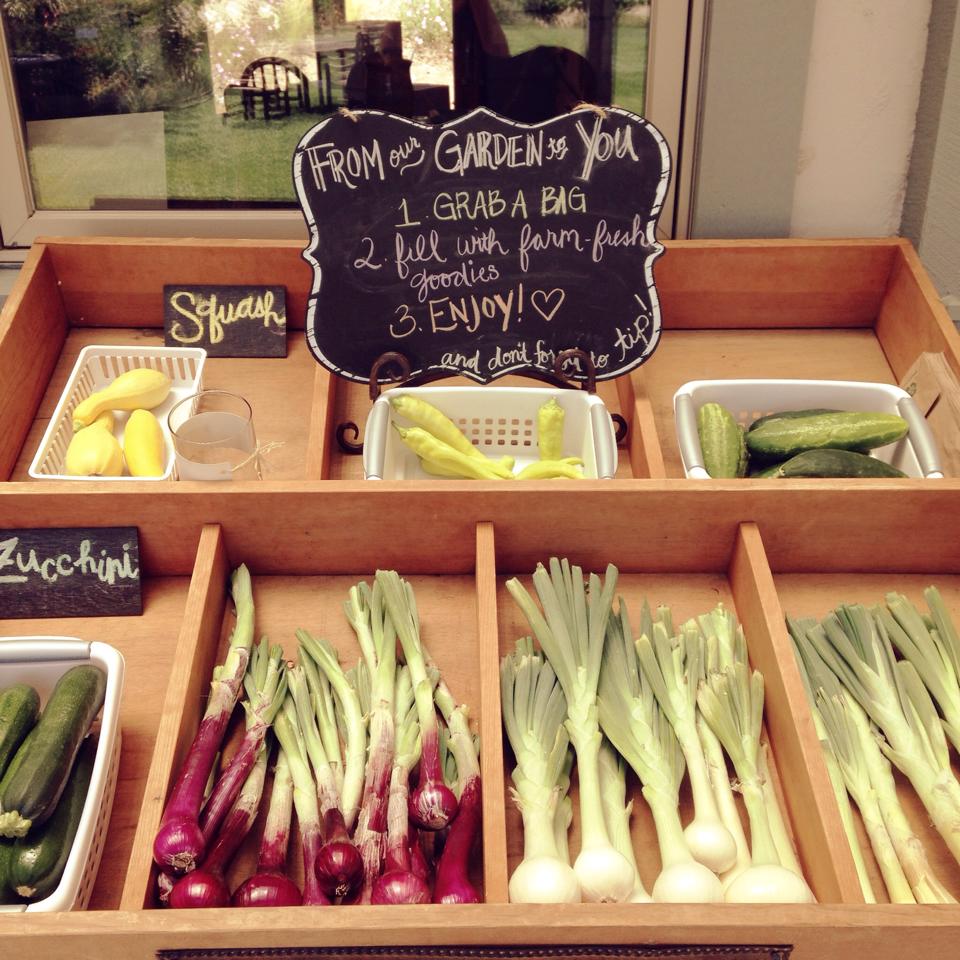 Speaking of picnic baskets, June 16 – 22 is National Picnic Week and Still Waters Vineyards was recently ranked in the top five picnicking spots in all of Paso Robles.  The olive grove, with its amazing views of our sustainably farmed vines is the perfect place to grab a picnic table and enjoy the moment.  Or, choose a table down on the lawn or near our pond and just relax, relax, relax!
The staff at Still Waters Vineyards does their very best to provide items to fill your picnic basket.  Our tasting room stocks an assortment of fresh cheeses, ciabatta bread, salami, spreads olives and nuts and don't forget our estate olive oil for dipping!
We got together recently with some of our favorite guests to celebrate the month of June with a delightful picnic lunch and refreshing wines to accompany the meal.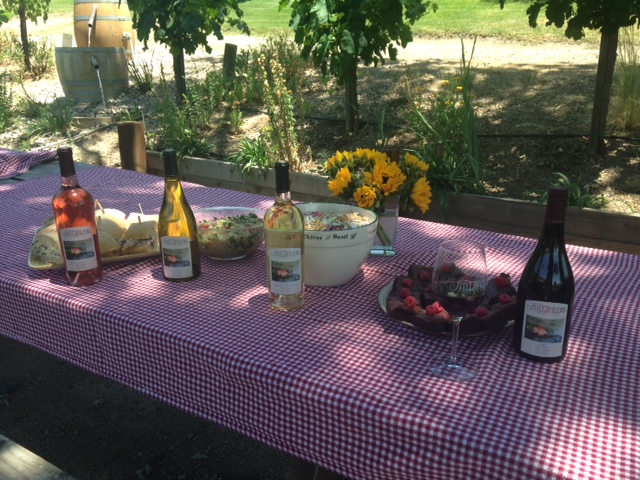 Our menu for the day included Tarragon Chicken Sandwiches on fresh Ciabatta bread.  We paired these great sandwiches with our newly released Still Waters Vineyards Estate Rose.  This Rose has a nose of rose petals and plum with a taste of raspberries, pink cherries and strawberries.   This Rose is a field blend of six of our red varietals that has very minimal skin contact and a beautiful salmon color.  It is described as crisp, keen and lively and is perfect to accompany the flavors of tarragon and cranberry in the sandwiches.
Our second dish was an Asian Cabbage Salad that we paired with our Still Waters Vineyards Estate 2013 Viognier.   The spiciness of the salad lends itself to the tropical flavors of this wine.  The Viognier is fermented cold in stainless steel with no malolactic fermentation and then transferred to new French oak in January for three months which gives the wine a smooth, crisp and full finish.  It is a delightful choice to pour in your glass on a warm summer afternoon!
With the Fresh Vegetable and Quinoa Salad, we poured the lovely Still Waters Estate 2013 Sauvignon Blanc.  This salad screams SUMMER!  With the fresh cucumber and peppers from our vegetable cart, we couldn't have made a better choice.  The great acidity of the Sauvignon Blanc with flavors of grapefruit, green apple and pear is the perfect complement to the fresh flavors of this salad.  The Sauvignon Blanc is rich and lively and has such great finishing clarity, we want it on every picnic menu!
Every good picnic needs a dessert course, and these Red Wine Brownies made with Still Waters Vineyards Estate 2010 Petite Sirah are perfection!  We paired them with a glass of Still Waters Vineyards Estate 2009 Syrah.  This Syrah is bursting with bold flavors of clove, spice and leather with a finish of ripe bing cherries.  The 30 months that this wine spends in French Oak barrels balances these flavors with toasted coconut and vanilla.  The wine is smooth, juicy and focused and you will definitely want to savor every sip as you enjoy the chewy yumminess of these brownies.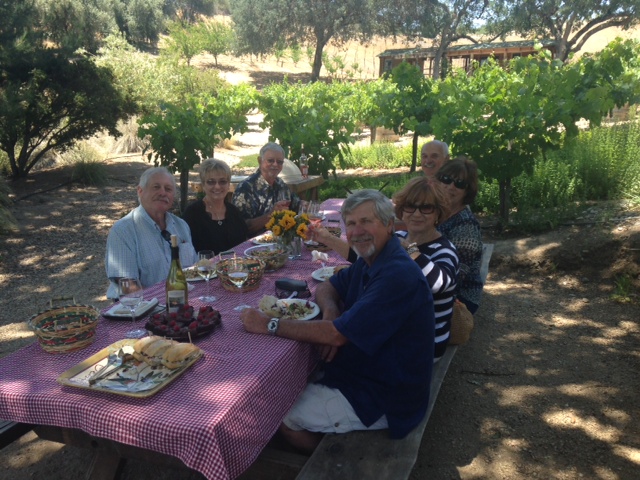 We hope that each and every one of you take the time to explore the Back Roads Wineries of Paso Robles this summer and include a visit to Still Waters Vineyards in your itinerary.  We'll have a shaded picnic table waiting for you with lovely wines to pair with whatever your favorite picnic basket holds!  Happy Summer!
TARRAGON CHICKEN SANDWICH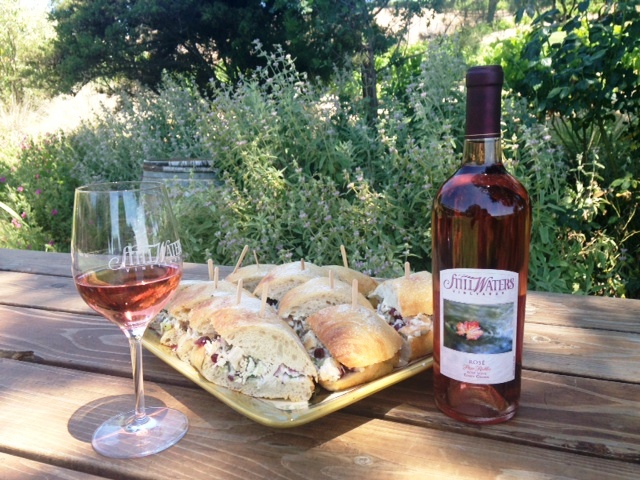 2 cups chicken breast (roasted and diced)
1/2 cup diced red onion
1/2 cup diced celery
1/4 cup chopped fresh tarragon
1/4 cup pistachios
1/4 cup dried cranberries
1/2 cup mayonnaise
1 tablespoon fresh lemon juice
fresh leaves of Romaine lettuce
Mix all ingredients together and spread over freshly sliced Ciabatta bread and serve with Still Waters Vineyards Rose 2013.
ASIAN CABBAGE SALAD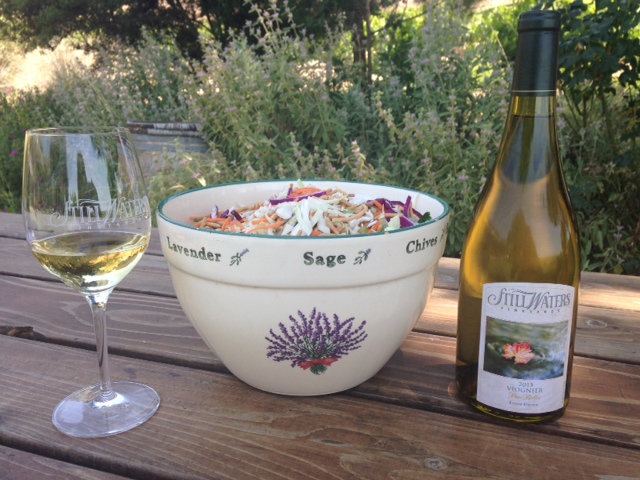 5 cups freshly chopped cabbage
1 large carrot, shredded
1/4 cup chopped green onions
1/4 cup sliced almonds
1/4 cup cilantro, chopped
1/2 cup chopped cucumber
1 11 oz can Mandarin Oranges
3/4 cup crunchy Chow Mein noodles
Asian Cabbage Salad Dressing
4 Tbs. soy sauce
3 Tbs. sesame oil
1/4 cup rice wine vinegar
1/4 cup Still Waters Vineyards olive oil
1 Tbs. sugar
1 tsp. salt
1/4 tsp black pepper
Lightly toss the first salad ingredients with the salad dressing and chill. Just before serving, add the Mandarin Oranges and the Chow Mein noodles. Serve with Still Waters Vineyards 2013 Viognier.
FRESH VEGETABLES AND QUINOA SALAD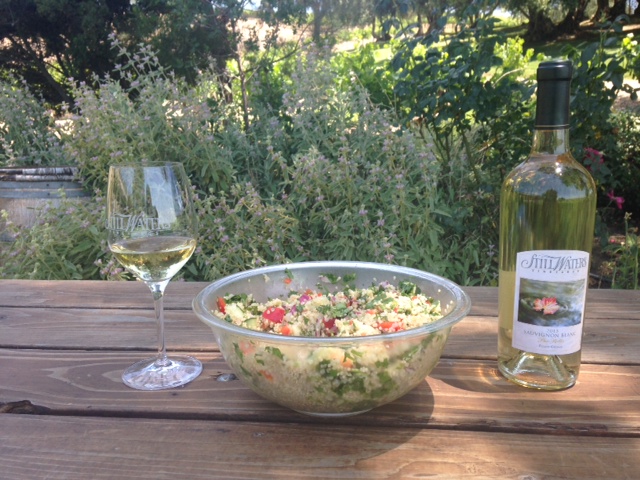 2 cups quinoa
4 cups water
1/2 cup red onion
2 cucumber, chopped
3 tomatoes, diced
1/4 cup cilantro, chopped
1 red pepper, chopped
1 green or yellow zucchini, chopped
Dressing
2 garlic cloves, minced
1/3 cup Still Waters Vineyards Olive Oil
1 tsp salt
1/3 cup rice wine vinegar
juice of 1 lemon
1 Tbs. sugar
Dash or two of Tabasco sauce
Cook quinoa with the water. Once cooked, cool in a large bowl using a fork to gently separate the grains. After the grains have completely cooled add the vegetables and gently toss with the dressing. Pair with a refreshing glass of Still Waters Vineyards 2013 Sauvignon Blanc.
RED WINE BROWNIES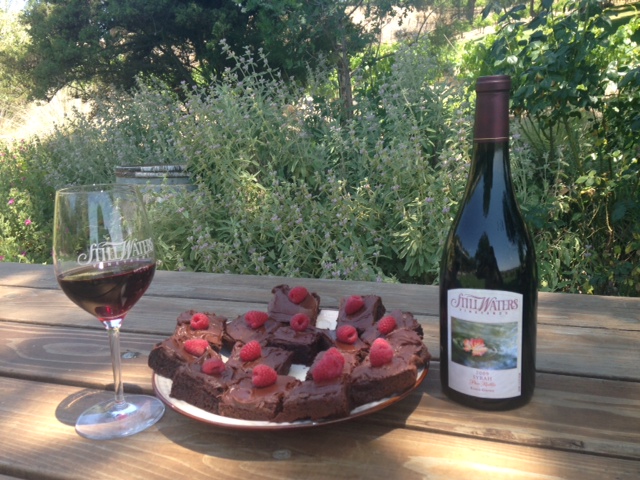 4 ounces semi-sweet chocolate, chopped
1/2 cup butter (1 stick)
1/4 cup Still Waters Vineyards Petite Sirah
2 eggs
1/2 cup brown sugar
1/4 cup sugar
1 tsp. vanilla
1/2 cup flour
1/4 cup cocoa powder
1/2 tsp. salt
1/2 cup semi-sweet chocolate chips
Glaze
2 ounces semi-sweet chocolate, chopped
1 Tbs. butter
2 Tbs. cream
1/2 cup fresh raspberries
Preheat the oven to 350 degrees and spray an 8 x 8 pan with non-stick cooking spray.
Melt the chocolate and butter together in the microwave, stirring every 30 seconds until completely melted
In a large bowl, whisk together the eggs, sugars and vanilla. Whisk in the melted chocolate mixture and then the wine. Add the flour, cocoa powder and salt and whisk until smooth.
Add the chocolate chips and pour into the prepared pan.
Bake for 15 – 20 minutes.
Prepare the glaze by melting the butter and chocolate together in the microwave and then whisking in the cream until well combined. Pour over the warm baked brownies. Garnish with the fresh raspberries and serve with a glass of Still Waters Vineyards 2009 Syrah.