May 11, 2014
Sculpterra Vineyards and Carriage Vineyards create the perfect spring or summer menu.
Living in Paso Robles has its many perks. We have beautiful weather, great wine and food, kind, friendly people and wonderful  places to visit all year round. The Back Roads of Paso Robles, especially, showcases some amazing gems that are a must see for wine and food lovers. Sculpterra Winery teamed up with Carriage Vineyards to create an original food and wine pairing that's easy and delicious and features local products. They set out to prepare  menu items that would feature Larry Smyth's estate grown Carriage Vineyards Olive Oil and pair well with Scultperra's wine of choice. For this menu they chose  their 2013 Sculpterra Viognier, a wine that lends itself to so many food pairing possibilities, especially moving into the foods of spring and summer.
The 2013 Viognier is extra special for many reasons. First of all, the fruit is sourced from both Sculpterra Estate Vineyards (60%) and Carriage Vineyards (40%). This blend of vineyards produces fruit  that makes for a complex wine packed with gorgeous layers of fruit and a filling finish. The fruit was harvested in 4 lots – 2 from Carriage Vineyards and 2 from Sculpterra. The first 2 lots were fermented and aged in 100% stainless, adding to the crisp acidity, light bodied fruits and floral attributes. The last 2 lots were picked at high Brix (sugar content) and fermented in all new 500L French Oak barrels. This late lot showed bright white peach fruit, tropical grapefruit and even hints of vanilla on the finish. The lots were combined and the wine was bottled in February 2014.
Larry, Shiela, Paul Frankel and his sister, Faith, got together on a rainy Friday afternoon last month and worked together to create this delicious food and wine pairing.  Larry and Shiela made the dense and rich Focaccia bread with their estate olive oil and a Caprese salad, drizzled with Carriage Vineyards Champagne vinegar and Extra Virgin Olive Oil.  Faith made the two main dishes – a roasted salmon which she served over tarragon infused summer salad and a mushroom fettuccine with a viognier cream sauce.The results were spectacular! After the food preparation, they sat down to a beautiful table to enjoy their meal with more olive oil and, of course, the Viognier. The wine was enhanced by the food and the food was enhanced by the wine. "A 10 out of 10 in my book", said Paul.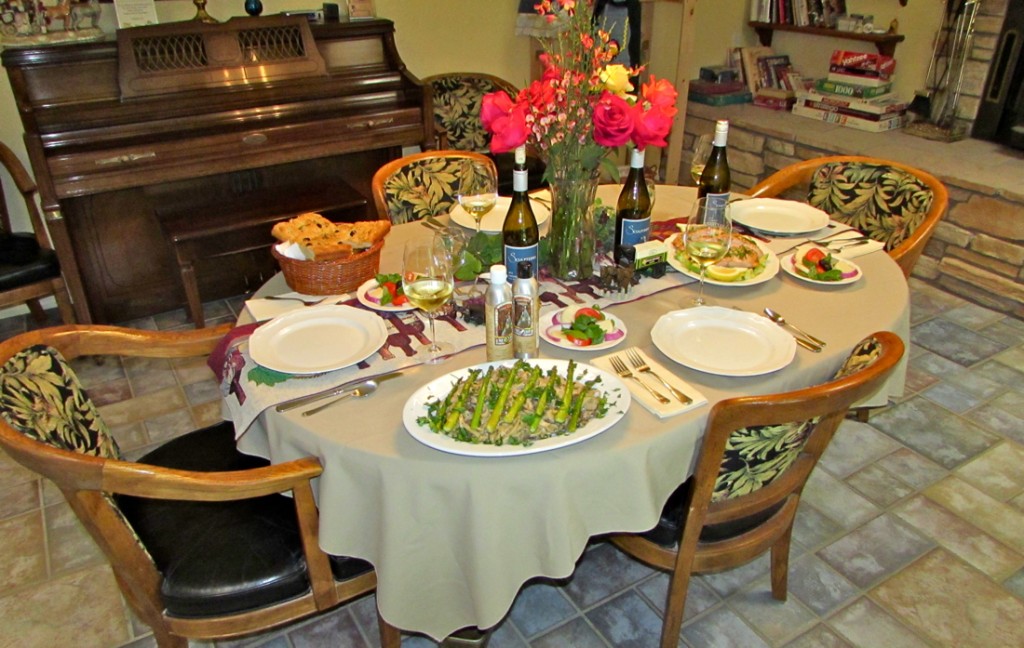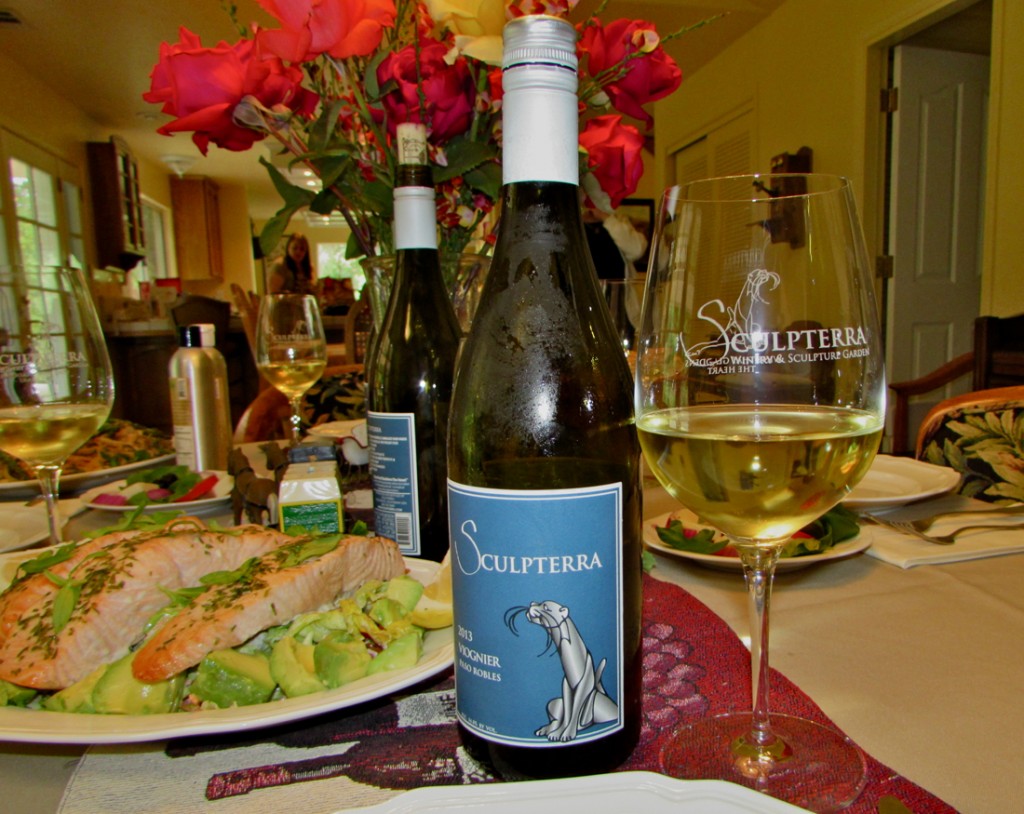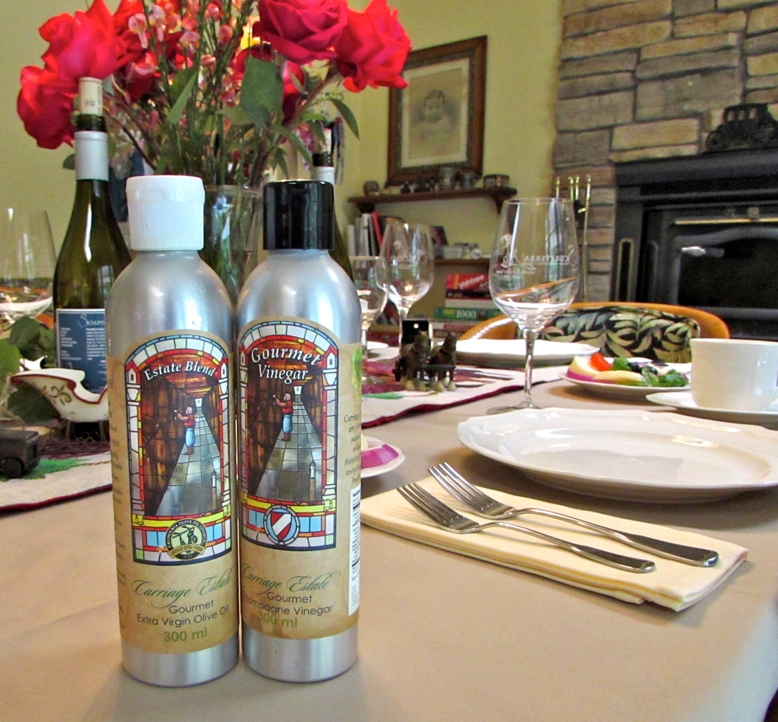 Below, you will find the recipes for creating these dishes yourself. As always, make the experience fun, right from the start. Head on out to Carriage Vineyards and Sculpterra Winery, visit with Larry and Paul, and pick up some of their olive oil and wine. Then call some friends and get cookin'! Enjoy – Cheers!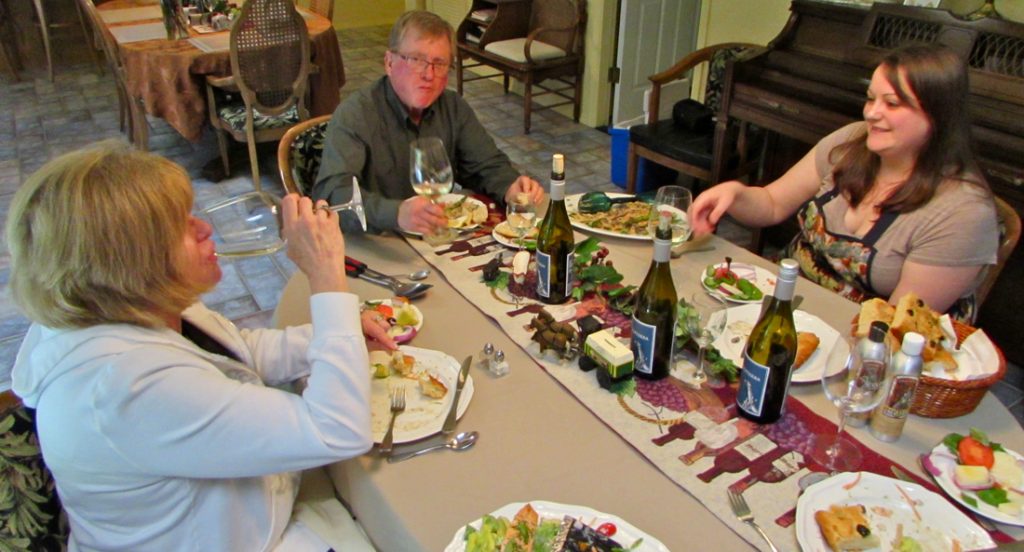 CAPRESE SALAD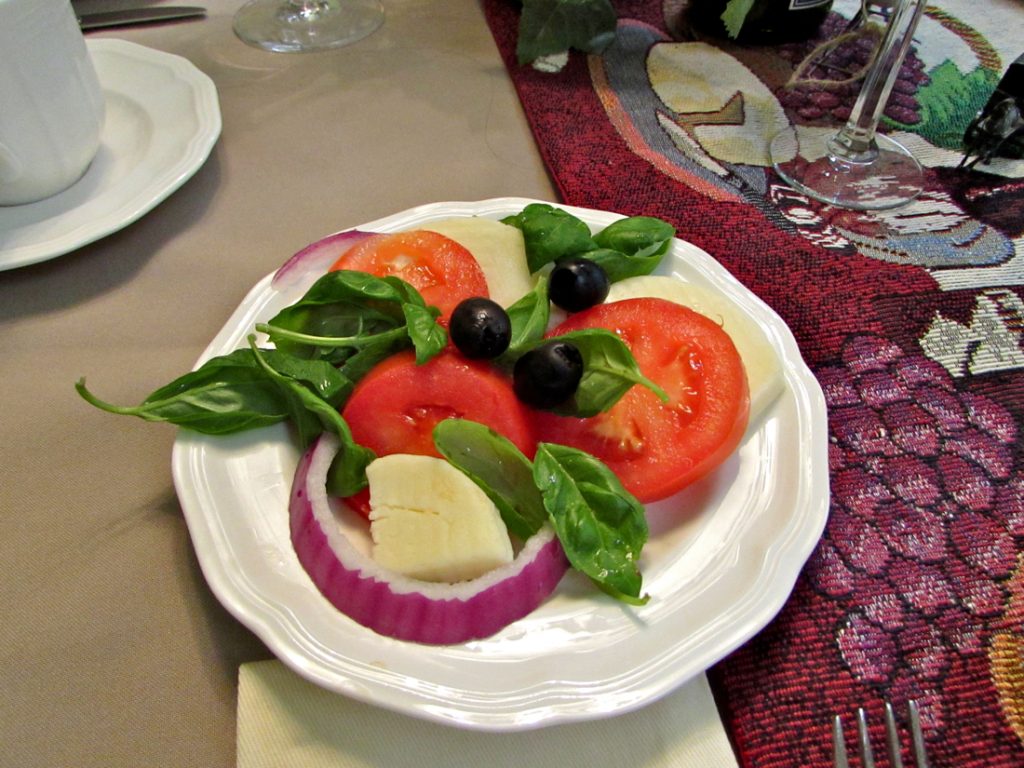 Ingredients: 
Sliced tomatoes
Mozzarella Cheese, sliced
Basil leaves
Sliced Red Onion,
Sliced olives
Salt & Pepper
Carriage Vineyards EVOO and Carriage Vineyards Champagne Vinegar
Arrange first 5 items on plates, season with salt & pepper and drizzle with oil and vinegar.
FOCACCIA BREAD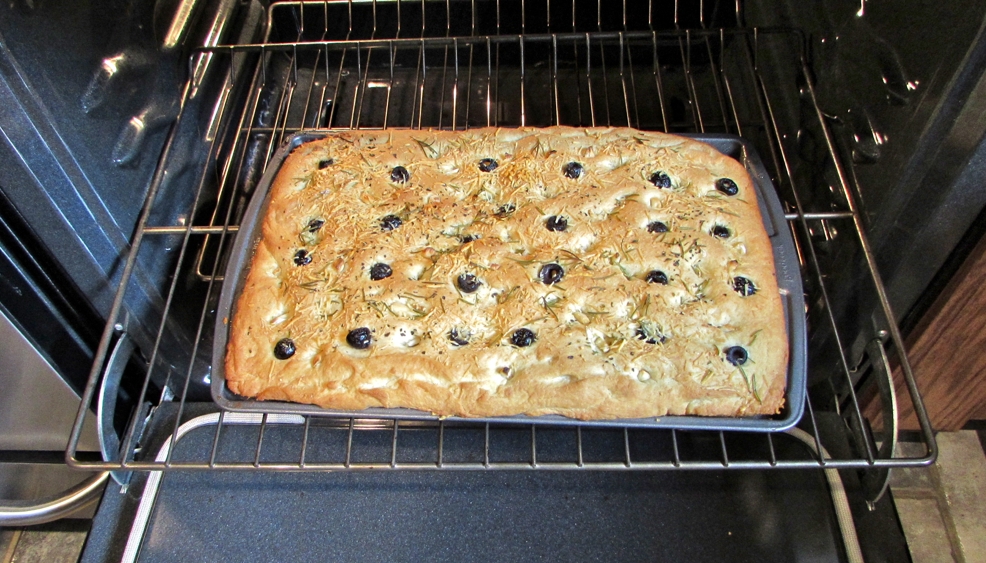 Ingredients:
1 3/4 cup warm water
1 pkg active dry yeast
1 Tbsp sugar
5 cups flour
1Tbsp Kosher salt
1 cup Carriage Vineyards olive oil
Toppings: Olives, salt, oregano, onion, rosemary, garlic, parmesan cheese
Instructions:
1. Combine warm water, yeast and sugar in small lbowl and keep wrm (not hot) for about 15 minutes, until yeast is bubbling.
2. In the bowl of a mixer fitted with a doughj hook, combine 1/2 cup of  Carriage Vineyards olive oil, flour and salt and yeast mixture on low speed.  (Can do my hand)
3. When well combined, knead dough 5-6 minutes on medium until smooth and soft. Sprinkle with a little flour if sticky. You may knead more if not smooth.
4. Place dough on a lightly floured surface and knead by hand 2 times or so and add flour if sticky.
5. Coat inside of mixer bowl with oil and return dough to bowl.
6. Cover bowl with plastic wrap and let dough rise in a warm place until dough has doubled in size – about one hour.
7. Coat a jelly forll pan with 1/2 cup of olive oil.
8. Place dough on pan and press down to fit entire pan. Turn the dough over and coat the other sided with oil and stretch to fit the pan.
9. Poke holes in the dough with fingers. You'll want an uneven surface.
10. Put dough in warm place and let rise to double in size for another hour.
11. Pre-heat oven to 425 degrees.
12. Drizzle oil on the top. Sprinkle with coarse salt and add the topping ingredients as you like. Punch down the sliced olives and garlic to give uneven surface.
13. Bake for about 25 minutes until golden brown but not too crispy.
ROASTED SALMON OVER SUMMER SALAD WITH TARRAGON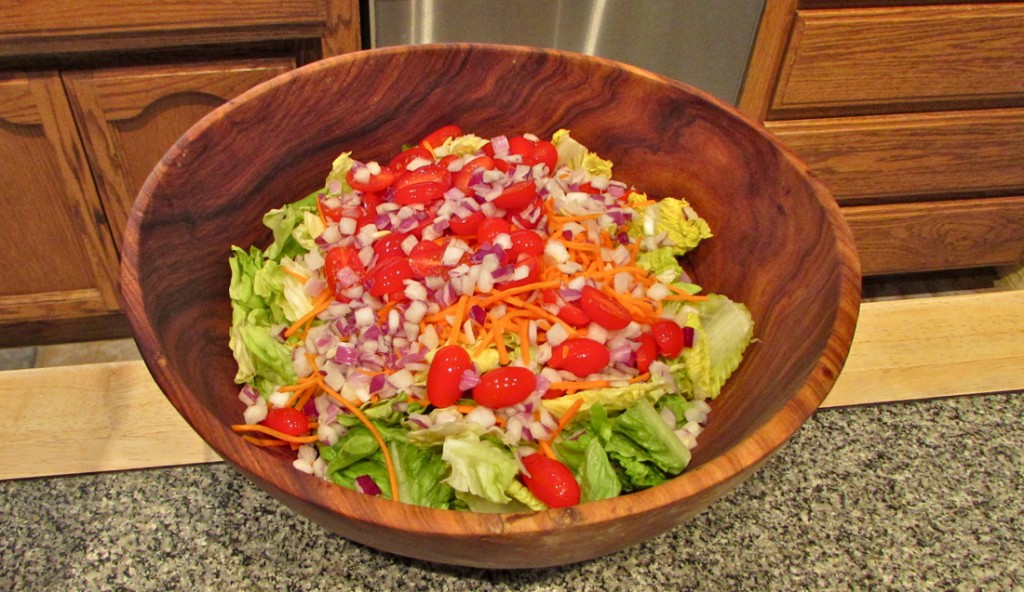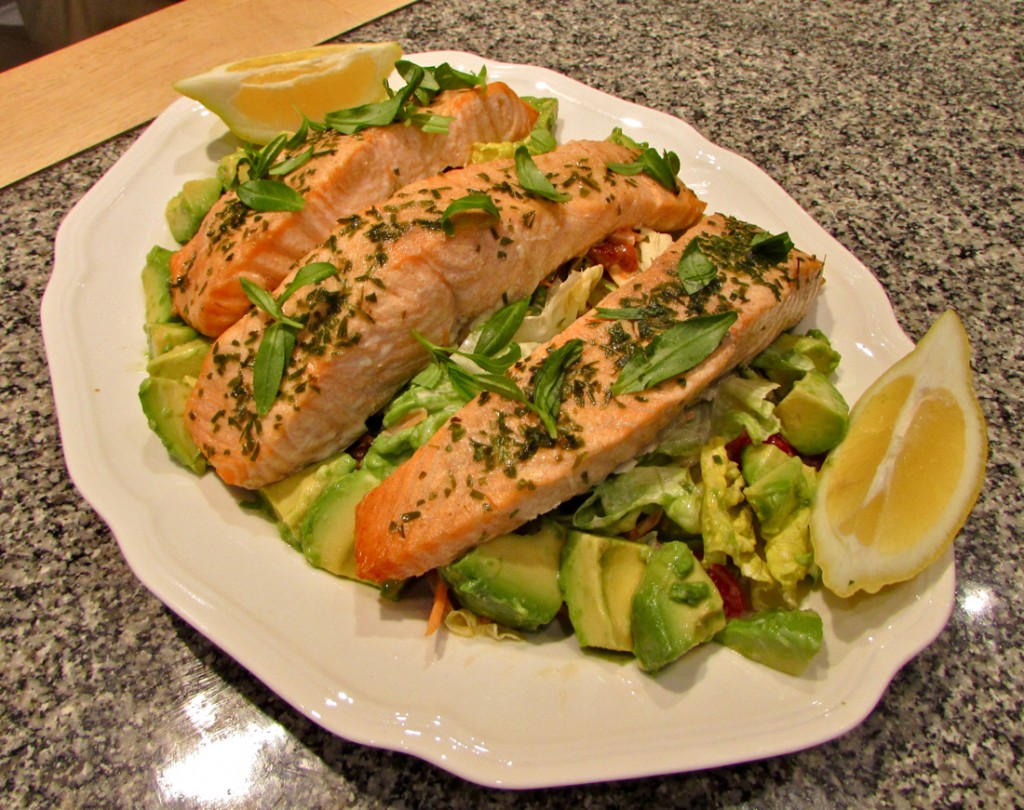 Ingredients:
4 (6-8 ounce) center cut salmon fillets
3 cups chopped butter lettuce
3 cups chopped hearts of romaine lettuce
1 pint of cherry tomatoes halved legthwise
2 avocados, diced
1/2 cup shredded carrots
1 medium red onion, diced
1/4 cup glazed walnuts, chopped
olive oil
salt
freshly ground black pepper
1 lemon cut into wedges
2 teaspoons fresh chopped tarragon for garnish
Pre heat oven to 350
Rub the salmon on all sides with 1 tablespoon of the olive oil and season all sides with 1 1/2 teaspoons of salt and 1/2 teaspoon of pepper. Coat the bottom of a nonstick baking dish with 1 tablespoon of olive oil and add the salmon fillets, skin side down with an inch inbetween each fillet. Transfer the salmon to the oven and roast until medium, 15-18 minutes.Let rest for 5-10 minutes tented with foil.
Toss lettuce, tomatoes, carrots, walnuts, avacado, and red onion in a large bowl and dress with tarragon dressing (recipe follows). Divide salad between 4 plates. Top with roasted salmon, then garnish salad with chopped fresh tarragon, and serve with lemon wedges.
Tarragon dressing:
1 cup mayonnaise
4 tablespoons white wine vinegar
2 tablespoon chopped fresh tarragon
2 Tablespoon honey dijon mustard
1 Tablespoon of sugar
2 to 3 teaspoons water
salt
freshly ground black pepper
Combine mayonnaise, vinegar, and mustard in a small bowl and whisk to blend. Whisk in enough water by teaspoons to make dressing thin enough to pour. Stir in tarragon. Season dressing to taste with salt and pepper. There will be extra of dressing which can be stored in a tight container in the fridge for up to a week
MUSHROOM FETTUCCINE WITH VIOGNIER CREAM SAUCE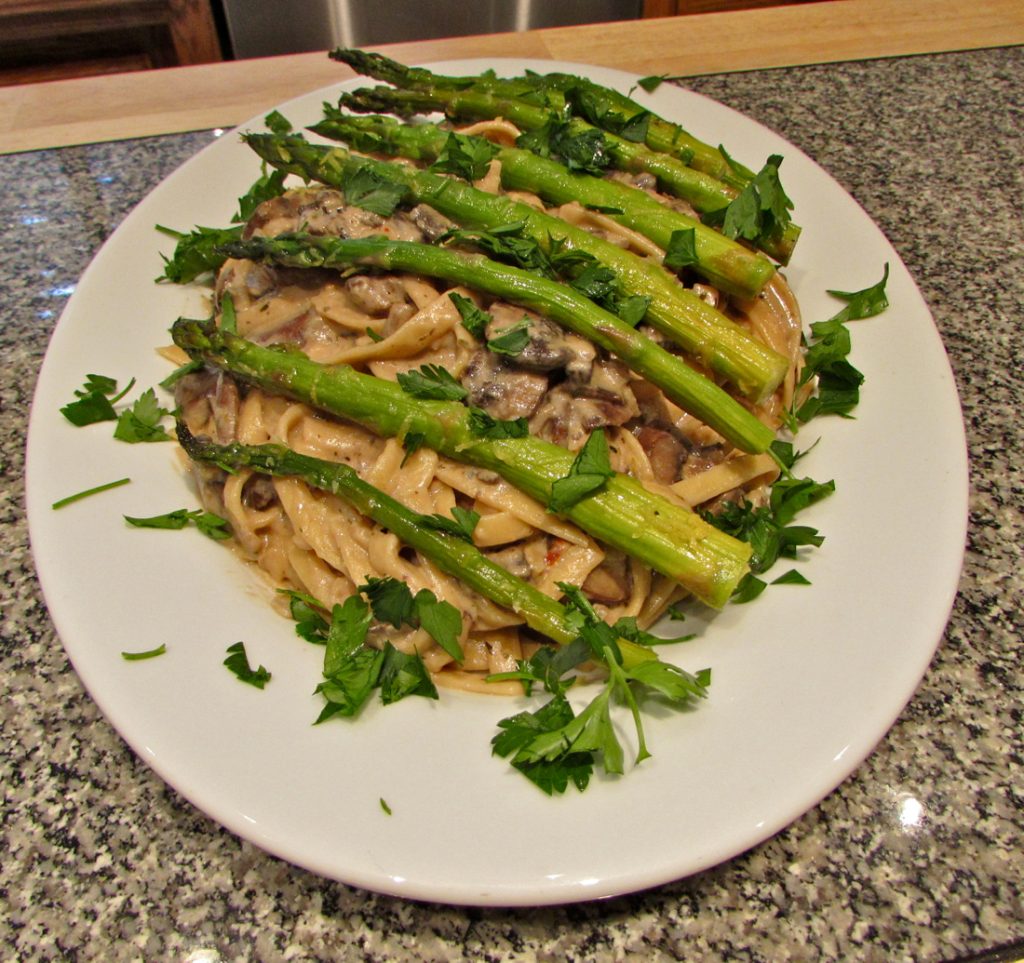 Ingredients:
1 lb fettuccine
2 lbs of cremini mushrooms sliced
1 large red onion chopped
2 Tablespoon minced fresh thyme leaves, or 1 Tablespoon dried thyme
6 Tablespoons of butter
4 garlic cloves, minced
1/2 teaspoon hot chile flakes
1 1/2 teaspoon of salt, or to taste
1 teaspoon of peper, or to taste
1 teaspoon of brown sugar
1/2 cup Sculpterra Viognier or other dry white wine
2 cups half and half
1 cup frozen sweet peas
3/4 cup plus a pinch of freshly grated parmesan cheese
1/4 cup fresh parsley, chopped
In a large pot of boiling salted water, cook the pasta until al dente. Drain and return to the pot. Cover to keep warm.
Meanwhile, in a large saute pan, heat the oil over medium-high heat. Add the mushrooms and cook, stirring, until soft, 3 to 4 minutes. Add the onion, garlic, brown sugar, chile flakes, thyme, salt, and pepper, and cook, stirring, until fragrant, 2 minutes. Add wine to pan and reduce by a fourth, 5 minutes. Add the cream, increase the heat to high, and bring to a boil. Reduce the heat and simmer until the sauce thickens enough to coat the back of a spoon, about 5 minutes. Add the Parmesan and adjust the seasoning, to taste.
Add the pasta and peas to pan,stir to coat with the sauce, and cook until the pasta is heated through, 1 minute. Remove from the heat and divide among 4 serving bowls or plates. Sprinkle each serving with parsley and serve immediately. Serve with a side dish of roasted asparagus (recipe follows) if desired
Roasted Lemony Asparagus
Ingredients: 
1 pound fresh asparagus, 1 to 1 1/2 inches cut off the bottom
1 medium lemon, zested and juiced
1 tablespoon of olive oil
1 teaspoon of salt
Freshly ground black pepper
Directions:
Preheat the oven to 400 degrees F.
Place the asparagus on a baking sheet, drizzle with olive oil, then toss to coat the asparagus completely. Spread the asparagus in a single layer and sprinkle liberally with salt and pepper. Roast the asparagus for 25 minutes, until tender but still crisp. Then toss roasted asparagus with lemon zest and juice.