November 26, 2013
Pop in and be Merry with the Back Roads Wineries!
Pop-in to some of the Back Roads Wineries for a festive holiday treat. Each winery is offering delectable gourmet popcorn and generous discounts on a variety of tasty wines.
Saturday, December 7 from 11:00am to 5:00pm.
Treat yourself to a day off from the hustle and bustle of the holidays and enjoy a day of wine tasting in the Back Roads of Paso Robles. Fun way to get some of those holiday gifts taken care of too!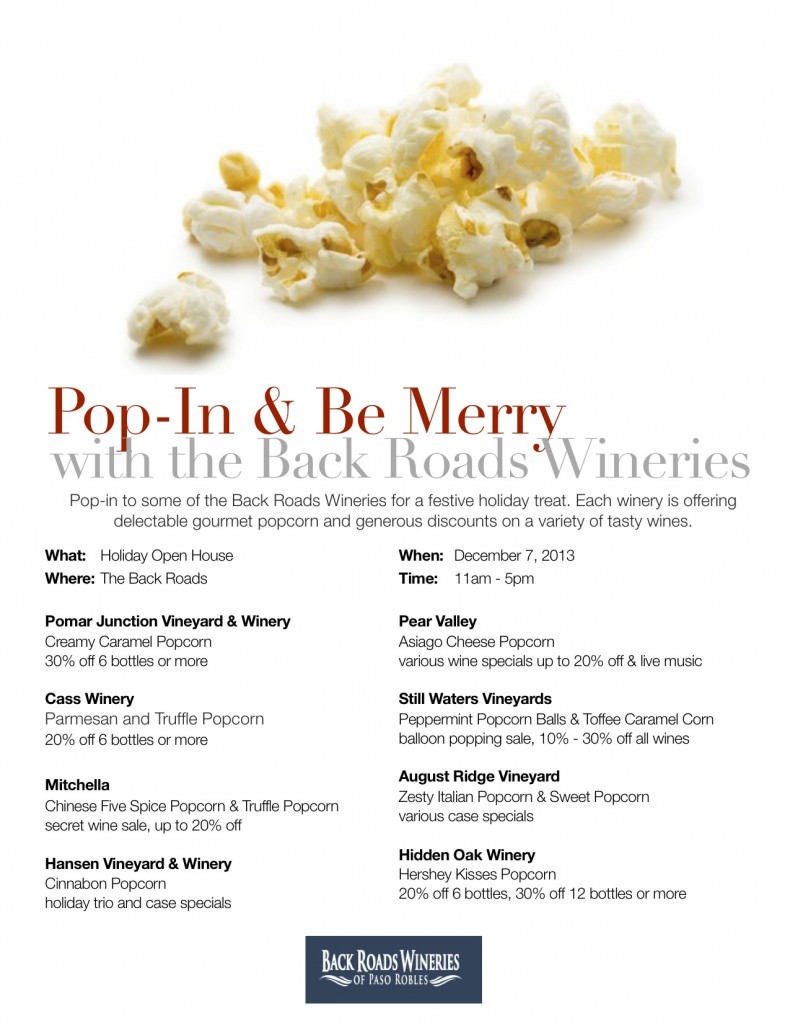 Pomar Junction Vineyard & Winery
Creamy Caramel Popcorn
30% off 6 bottles or more
Cass Winery
Parmesan and Truffle Popcorn
20% off 6 bottles or more
Mitchella Vineyard and Winery
Chinese Five Spice Popcorn & Truffle Popcorn
secret wine sale, up to 20% off
Hansen Vineyard & Winery
Cinnabon Popcorn
holiday trio and case specials
Pear Valley
Asiago Cheese Popcorn
various wine specials up to 20% off & live music
Still Waters Vineyards
Peppermint Popcorn Balls & Toffee Caramel Corn
balloon popping sale, 10% – 30% off all wines
August Ridge Vineyard
Zesty Italian Popcorn & Sweet Popcorn
various case specials
Hidden Oak Winery
Hershey Kisses Popcorn
20% off 6 bottles, 30% off 12 bottles or more