August 20, 2013
Join 11 Back Roads Wineries to Celebrate the Grape on #CabernetDay 2013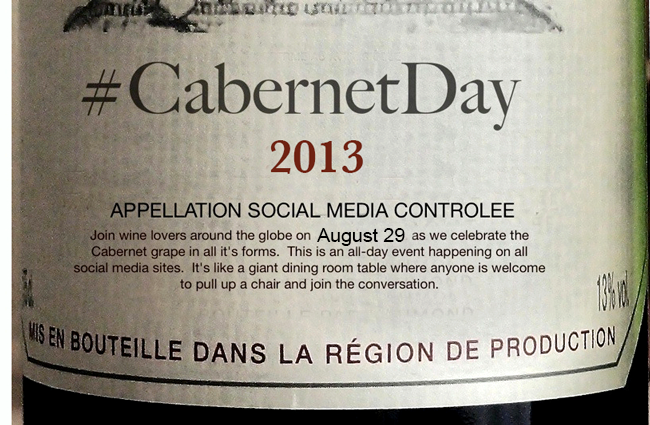 The idea is simple—enjoy any Cabernet based wine (Cabernet Sauvignon, Cabernet Franc, Cabernet blends) and share your experience on social media sites using the hashtag #CabernetDay.
Share your favorites and ask your questions. This is a global event! Connect with other cabernet fans from around the world and from all cabernet producing regions.
Gather some friends at home or……
Join the Back Roads Wineries of Paso Robles at Pomar Junction Vineyard in Paso Robles for some #cabernetfun! Thursday, August 29th from 5-7pm. Great way to spend the afternoon with other cabernet sauvignon fans.
Many of our Cabernet producers will be in the tasting room at Pomar to share their cabernet sauvignon wines and blends with you. Taste, chat, Tweet, Instagram and Facebook your comments, new finds, winemaker quotes, pictures, etc. (WiFi available)
And Alex's BBQ Truck will be on hand preparing and serving food for purchase that will pair well with all that wonderful cabernet. More event info and RSVP.
Participating wineries:
Pomar Junction
Cass Wines
Mitchella
Hidden Oak Winery
August Ridge
Gelfand
Still Waters
Sculpterra
B & E
GreMark
Penman Springs
If you can't physically attend our event in Paso Robles, please follow our tweets on Twitter @BkRdsWineries and our posts on Facebook. Hashtag your tweets and posts with #CabernetDay, #pomarjunction . #pasowines #pasocabernet, #bkrdspasocabday, #bestwineever, #wineryname… have fun with it
Take a pic of your favorite Back Roads Wineries cabernet sauvignon and post it on Instagram @BackRoadsWineries #bkrdspasocabday #cabernetday and we'll feature your image!
Enjoy!