July 24, 2012
My name is Paul Warren Frankel, and I'm the winemaker at Sculpterra Winery.  It's an all-consuming occupation – a true "labor of love".   I am also a wine making control freak, and from each harvest, I tailor each new vintage to an exact style and taste.  I'm 26 years old, and I finished my BA in Viticulture and Enology at Cal Poly, San Luis Obispo, in 2009.  Along with winemaking, I manage the ranch vineyards, work fruit and juice sales, schedule production & plot projections, and even pour wine for our guests in the tasting room.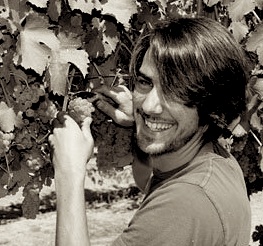 My father, Dr. Warren Frankel, is a practicing family doctor who moved his family from the Los Angeles area to the rugged back roads of Paso Robles in 1990.  Some of our now 265 acres were purchased as far back as 1980.  We started with Pistachio trees in 1981, planted our first Cabernet parcel in 1990, sold our fruit to a variety of local wineries, and now make family estate wines, which we sell from our tasting room/winery.  We are the quintessential "family owned and operated" winery, and I work closely on all aspects of the business with my father (the Owner!).
People often ask me, "So Paul….where do you live?"  I respond, "I live here…on the property.  I make the rough daily commute on an ATV, riding through the rows of vines."   I loved growing up on this property, and enjoyed every bit of my outdoors childhood.  I got the wine bug early on, and the thought of producing a hand made, family produced product really excited me, and still excites me today.
Every year, the harvest turns into a blur; a recollection, as the days, weeks, and months becomes the ritual/saga of picking, crushing, fermenting, and barreling.  It starts with a plan (this is where the fun begins).  We'll look at this plan on our next blog.  In the meantime….Enjoy Sculpterra wines!